Neil 是迷失的角色,由系列的製作團隊創作,他在迷失手機短劇第2集正式登場。
角色簡介
Neil 是海洋航空815號航班的乘客,亦是航班解體事故的中艙生還者。在墜機前,Neil是一名冰凍乳酪製造者,他乘搭了815航班並墜毀到小島去。在小島上,Neil常常與其他生還者鬧不和,十分令人討厭。然而航班尾部生還者的加入,令Neil喜歡上新加入的生還者Libby,可是Libby真正喜歡的是Hurley,因此他十分憎恨Hurley。後來Neil與小島和其他生還者一起被移走,並時空穿梭回到1954年,於沙灘火箭襲擊事件中被The Others殺害。在後世Neil仍然乘搭了815航班,並安全抵達洛杉磯。可是Neil依舊一樣令人討厭,而他亦沒有被喚醒,更沒有與其他人一起繼續前行。
815航班墜毀前
Before the Island
Not much is known about Neil before he came to the Island. It is assumed that he used to make frozen yogurt, as indicated by Bernard. He also has a family history of asthma. Template:Crossref
2004年9月
Neil的座位在815航班的中部,而航班在小島上空飛過時不幸分解了,因此他與其他乘客來到沙灘去。
在小島上
2004年9月(第1天-第9天)
Neil來到沙灘後,立刻逃離不斷發生爆炸的墜機現場。之後Neil與其他生還者都坐在沙灘上等待救援,並與其他人圍着火堆坐。晚上,Neil聽到森林裡傳出了怪獸的聲音,所以他與其他生還者都一起遠看森林裡的狀況。第2天,生還者們都在討論怪獸的事,其後突然下起大雨來,因此Neil與其他生還者都到處躲避,而這時森林裡再次傳出怪獸的聲音。不久,Walt在森林裡發現了一個手銬,並引起了Sawyer和Sayid打架,而Neil則站在一旁觀看。
之後Sayid向生還者們講解關於無線電的事,而Neil則站在一旁聆聽。之後再次下起大雨來,因此Neil與其他生還者再次到處躲避。晚上,在飛機殘骸裡傳出了聲音,因此生還者們慢慢地接近殘骸查看,結果眾人發現在殘骸裡有數隻野豬,可是當野豬們發現生還者後便嚇得立刻離開,並在沙灘上奔跑,而在沙灘上的Neil與其他生還者都到處躲避野豬。很快食物被吃光了,因此Hurley和Sawyer為了食物而爭執,這時Locke提議去狩獵,而Neil則站在一旁聆聽。晚上,生還者們決定燒了飛機殘骸和在內的屍體,所以Calire等人發起了一場哀悼會,去哀悼在空難中死掉的乘客,而Neil則站在一旁悼念死去的乘客。
早上,Joanna在游水時不幸被海浪捲走,而Neil就站在沙灘上看著Jack出海救她。晚上,Charlie揭發偷了水的人是Boone,二人因而發生衝突,Neil與其他生還者聽到吵鬧聲後便走來查看,這時Jack出現,並告訴大家他在森林裡發現了水源,亦告誡大家不要只為自己著想。後來,Jin突然襲擊Michael,而Neil與其他生還者就站在一旁看,Sawyer和Sayid立刻上前制止,並用手銬把Jin銬起。晚上,Jack帶了一些生還者遷到山洞裡生活,而不願意遷走的生還者則留在沙灘上圍着火堆坐,至於Neil是遷到山洞去,還是留在沙灘上則不清楚。
2004年10月(第10天-第40天)
2004年11月(第41天-第70天)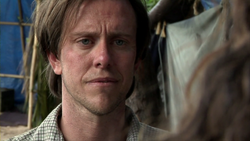 Neil was mentioned as being among the volunteers who tried to help Bernard build the S.O.S sign. He soon lost interest however, and abandoned him. Template:Crossref Neil had an infatuation with Libby, one of the tail section survivors. He threatened to Hurley that he was going to take her away from him, but backed down when learning of Hurley's date with her. Template:Crossref
2004年12月(第71天-第100天)
Neil is said to have joined Jack's group due to his dislike of Hurley, who was in Locke's group. Template:Crossref Neil was on Daniel Faraday's second trip to the Kahana. The zodiac raft did not reach its destination, as the freighter was destroyed beforehand. Neil and the rest of his companions on the raft were moved along with the Island.
1954年(時空穿梭)
After the Island moved, Neil, on the Zodiac raft with Daniel Faraday, returns to the island to reunite with his fellow survivors as they try to find out what happened. Template:Crossref Soon afterward, Neil got into a heated argument with several of his survivors over making fire, which he claimed was futile. It appears Neil never had a good relationship with the other survivors. As time passed, tensions escalated and Neil began to personally insult his fellow survivors, calling Sawyer "inbred" and criticizing Bernard's inability to make fire. As he said this, he was struck by a flaming arrow shot by the Others in 1954, which launched the fire arrow attack. Neil stumbled around for several moments, screaming in agony before being felled by another volley of arrows. Template:Crossref
後世
Trivia
Production history
Neil "Frogurt" had a very delayed show debut:
A character named Neil "Frogurt" was first mentioned by Carlton Cuse and Damon Lindelof in the April 3rd, 2006 Official Lost Podcast as one of the yet-unidentified survivors who would soon become more "interesting."
On the show, Frogurt was mentioned for the first time in the season 2 episode "", but remained unseen.
Following that, Neil became somewhat of a running joke with the producers, and many fans wondered if he was real. He earned the nickname "The Frozen One" by Lost fans.
More than a year later, the promise that Neil would be seen was repeated on July 26, 2007 at the San Diego Comic-Con 2007 panel.
Frogurt was finally first seen in the Missing Pieces mobisode "".
His first appearance in the main show was more than a year later, in the season 5 episode "". He died in the subsequent episode, "".
Although Neil is one of the survivors that were with Daniel Faraday on the Zodiac raft when the island moved, Sean Whalen did not appear in "

第4季 第13集

". The character wearing a red shirt is played by a background extra whose face is obscured by another survivor.
Neil's actual family name is not yet confirmed. "Frogurt" is merely an occupational nickname, and when anyone calls him that, he corrects that with "Neil". Template:Crossref
When Sawyer picked up a red shirt and asked "Whose shirt is this?", Neil responded that it was his, foreshadowing his own death as Boone explained in Season 1 Template:Crossref that "red shirts" were always the ones which were killed on missions in the television show "Star Trek".
Subtitles on the season four DVD spell his name as "Neal".
Neil shows some kind of dislike of Sawyer.
Supervising producer Edward Kitsis was the one credited with giving the audience an idea as to who Neil "Frogurt" was in the past life.
Other
Greg Grunberg, J.J. Abrams' childhood friend who played Seth Norris in "", actually started and ran a successful frozen yogurt business.
The word "frogurt" is well known in popular culture via a Halloween episode of The Simpsons in which Homer is persuaded to buy a cursed doll because "it comes with a free frogurt! (the frogurt is also cursed)".
"" reunites Sean Whalen with Jeremy Davies onscreen. They previously costarred in Twister.
登場集數