Jurassic World: Dominion Dominates Fandom Wikis - The Loop
打开音效
Naomi Dorrit 是迷失的角色,由系列的製作團隊創作,她在迷失第3季第17集正式登場。
角色簡介
Naomi Dorrit 是科研隊的領袖。
在島外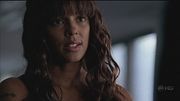 对于Naomi的过去基本上没有交代,但根据和Charlie交谈及口音判断,她在到小岛前有很长的时间住在英国曼彻斯特。她会说多种语言,包括英语、普通话、西班牙语、意大利语和葡萄牙语。在进行任务之前和Matthew Abaddon的对话也暗示了她對军事经验丰富灵活,足以应付各种危险的军事行动。
到小岛之前,Naomi受雇于Matthew Abaddon,要进行一次特殊的行动。她被告知要带领保护一组沒有任何经验的四个人(Daniel,Miles,Charlotte,Frank),但她怀疑自己能否做到。Naomi在任务中会到小岛,而她相信小岛上可能会有815航班的幸存者。Matthew Abaddon坚定地让她确信岛上没有幸存者,并相信受过良好训练的Naomi能完成这次任务,鼓励她接手,她當然願意。Template:Crossref
Naomi 在这次任务之前没有与她的组员有任何的来往,Frank形容她是一个"更高一级的指挥官",并暗示他们与她并没有太多的接触,Miles也描述他与她的第一次的见面就是在货船上,同样对她了解不深. Template:Crossref
根據Naomi告訴幸存者們她的故事,雖然她跟Penelope Widmore從來沒有相見,但她是為Penelope Widmore的搜救隊工作的。他们被告知坐标去寻找Desmond Hume, Naomi很怀疑这次的搜救,因为这个坐标只是一个位于太平洋中心的点. 这个问题也使的她的团队认为这是一个愚蠢的任务.. 当直升机飞回她那距岛 80 海里船时, 云突然分开,她看到了岛. 直升机上的仪表开始故障, Naomi 在飞机坠毁到海之前跳伞. Template:Crossref
Penny 模糊的告诉 Charlie , Naomi 并不为她工作. "我不在船上,谁是Naomi", 这个问题看来需要进一步的证实是否Naomi的公司是受雇于 Penelope, 但是 Charlie 在手中写下了"NOT PENNY'S BOAT" 并且让Desmond知道了这个事实,在他即将死去的时候. Template:Crossref
第3季 (第87-93天)
Naomi landed on the Island after ejecting from a helicopter, with her parachute getting stuck in some trees. She was carrying a backpack when she jumped which contained a satellite phone and a copy of the novel Catch-22 (Ardil-22, a Brazilian Portuguese edition), which contained a photograph of Desmond and Penny (among other things such as a packet of beef stew, a nutra fruit bar and the hula doll). A flare gun was also later discovered. Before her face was revealed, the photograph led Desmond to believe that she was actually Penny. Naomi was cut down out of the trees by Desmond, and caught by Jin, Charlie and Hurley. She recognized Desmond and spoke his name when she saw him after her visor was removed. Template:Crossref
When she evacuated the helicopter, she was wearing an oxygen mask, a tinted visor, and was equipped with an emergency beacon.
During her emergency landing, Naomi suffered a haemothorax, when a tree branch punctured her lung. She asked "出了甚麼事?" ("What happened?") in Mandarin (Chinese), and then said she was dying in Spanish and Italian as Desmond attended to her. Mikhail, who suddenly appeared and then was captured by Jin and Desmond, revealed that he was a Soviet Army field medic and offered to save her in exchange for his release. He placed an improvised chest tube in her to drain the blood from her lung and reinflate it, then packed the wound. While still apparently dazed, she spoke to him in a foreign language, and Mikhail claimed she had thanked him for saving her. Her actual words were "eu nao estou so" which is Portuguese for "I am not alone".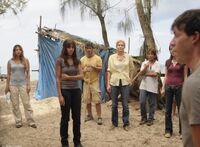 After waking up, she asked Hurley where she was (in English, with a Mancunian English accent). He informed her that she was on an island with survivors from Oceanic Flight 815. She replied that wasn't possible as the plane had been found with no survivors. Template:Crossref
Naomi告訴Sayid她的搜救隊被Penelope Widmore僱用(雖然她從來沒有見過Penny),來小島的原因是搜救Desmond。Naomi也告訴Sayid815航班被發現在巴里島海邊的4英里深海洋中。She also says that cameras and robots were used to survey the wreck and found all the bodies. From what Kate tells Jack, Naomi's ship is 80 nautical miles away from the Island, and, using the radio phone, she hopes to contact the ship and get them rescued. Template:Crossref.
The next day Naomi tells everyone about the radio phone and tells them it's not important that the world thinks they're dead. Template:Crossref
Later,Naomi問Charlie who the rival group on the Island are. They get talking and it is revealed that like Charlie, Naomi is from Manchester. Naomi realizes that Charlie is that "dead rock star" everyone made a big deal about when they found the wreckage of Oceanic Flight 815. She tells him that they had a big memorial service and that his band Drive Shaft released a new Template:Crossref album in memory of him, which apparently sold well. Template:Crossref
在第93天,Jack,Rousseau和Naomi帶領大部份的幸存者前往收音塔,去刪除Rousseau不斷重覆了16年的求救訊號和清除所有瀕率,而且若Charlie在The Looking Glass能夠刪除干擾訊號系統,她便可以聯絡她的貨船。在前往收音塔的途中,他們遇上Ben和Alex,and Ben attempted to dissuade Jack from contacting Naomi's crew. Ben made a point of approaching Naomi and introducing himself before Jack told her not to talk to him. Ben asserted to Jack that Naomi is not 'who she says she is', that she was 'one of the bad guys', and that contacting her ship would not bring rescue, but end the lives of everyone on the Island. Ignoring and later attacking Ben, Jack繼續帶領大部份的幸存者前往收音塔,並刪除Rousseau的求救訊號。訊號刪除後,Naomi的衛星電話也收到信號了,她立刻撥電話到她的貨船上,突然Locke飛一把刀到她的背部,她的衛星電話從她的手中掉到地上,接著她也倒地了。Template:Crossref
第4季 (第93-94天)
Locke用刀襲擊她失敗了,並沒有把她給殺害。除了Ben之外,當沒有人看著她的時候,她便設法逃進森林裡。她認為幸存者要殺死她,所以她用自己的血製造了一條假路徑,來騙可能會到處找她的人。Jack和Rousseau(帶著Ben)真的跟著她弄的假路徑到處找她,同時Kate也到處找她,但她跟著的是真的路徑。
受了重傷的Naomi躲在一棵樹上,當Kate路過樹底下時,她跳下來並用Locke飛到她背部的那把刀挾持著Kate,並要求Kate給她衛星電話。她問Kate她所做的一切都是想幸存者們能夠被獲救,但為什麼他們要襲擊她。Kate不斷解釋襲擊她的人不是他們,而是一直認為她不是她所說的人的Locke。Naomi好像相信Kate,而Kate也把衛星電話給了她。她重新調整衛星電話十分弱的訊號,給Minkowski一個更好的資料讓他知道她在哪裡,接著她騙Minkowski她到小島時受了重傷。在她傷重死亡前,她叫Minkowski跟她的妹妹說她很愛她。可是,之後被証實那個有關Naomi妹妹的訊息是一個暗號,暗示她被人迫她說謊,而且Miles亦說Naomi是沒有任何妹妹的。Template:Crossref Kate led Miles along with the rest of the team to Naomi's body, where he examined her, possibly communicating with Naomi, and agreed that it was Locke who was responsible for her death. Kate and Daniel Faraday then carried her body to the helicopter, against Miles' wishes, who said it was just 'meat' (meaning her spirit had left). The helicopter was too low on fuel to carry her, so her body was to be left behind until the helicopter could refuel on the freighter。Template:Crossref
接著,Sayid替Naomi的屍體闔上眼和蓋上毯子。他發現Naomi手中戴著一隻金屬手鐲。金屬手鐲上刻著: "N, I'll always be with you. R.G."的字樣。稍後,直昇飛機可以離開小島到貨船去,但它還有一個座位剩,可是Miles被Locke那幫人困綁著,所以他不能乘直昇飛機離開小島,而Charlotte和Daniel對那個座位也不敢興趣,結果Sayid建議應該帶Naomi"回家" 。最後她的屍體被放置在直昇飛機所剩下來的座位上,跟Desmond和Sayid一起乘直昇飛機離開小島,前往貨船去。 Template:Crossref
Trivia
Naomi是第29位角色有閃回。
Naomi是第1位已死的角色有閃回。
Naomi is a Biblical name that means "pleasantness". It appears in the book of

Ruth

, which is also a Biblical name appearing in "".

In the Bible, after Naomi's husband and sons die, her daughter-in-law Ruth refuses to abandon her. Naomi urges her to stay in her home country, but Ruth persuades her to take her back to Naomi's home. Ruth marries the wealthy Boaz and gives birth to a son. Naomi adopts this child, who becomes the grandfather of King David and thus an ancestor of Jesus.
The conversation between Ruth and Naomi before setting out for Bethlehem includes "Your people will be my people and your God my God. Where you die I will die" (Ruth 1:16), an ultimate expression of love commonly quoted in Christian and Jewish weddings.
Both Naomi and Ruth first appear as characters in "".

Her family name Dorrit was first revealed in the

Official Lost Podcast/April 30, 2007

and then mentioned by Naomi in "". "A very Dickensian name", according to Carlton Cuse.

Little Dorrit is a serial novel by

Charles Dickens

published originally between 1855 and 1857. The novel's main character is called Amy Dorrit. It is a work of satire on the shortcomings of the government and society of the period.

Naomi's arrival on the Island via parachute is similar to an event from William Golding's novel

Lord of the Flies

. In the novel, a parachutist bails from a falling aero plane at night and is caught suspended in the trees. The parachutist is subsequently discovered by the survivors to be dead.
Naomi has a tattoo on her upper right arm. However, like Matthew Fox with Jack, the tattoo is actually one which actress Marsha Thomason has had for years.
"Naomi" was the name of the personal helicopter pilot/assistant (played by Caroline Munro) to "Karl Stromberg" in the James Bond film The Spy Who Loved Me. In the film, Stromberg is a reclusive super-villain who lives in a submersible lair named "Atlantis". Naomi is the first female character ever to be killed by Bond when he shoots her out of the sky with a surface to air missile shot from his car/submarine.
Naomi James was the first woman to sail solo around the world via Cape Horn (similar to the race that Desmond was in).
Anagrams of "Naomi Dorrit" include: "Maid in rotor" (a possible reference to her status as a female helicopter pilot) and "Raid monitor".
Naomi出現的集數共有9集。
未解的谜题
未解決的謎題
請不要在這裡解釋這些謎題
提出問題時請不要暗示答案
如對以下的未解決謎題有任何推論,請到理論頁面去討論
为什么她比搜救隊的其它成員早几天到小岛上去?
为什么她說多种语言?
为什么电视新闻裡播出了

815航班

的残骸在海底被發現和所有乘客都遇难,她还问Matthew Abaddon如果在小岛上遇到了幸存者该如何行事?
为什么她认为

815航班

会在她要去的小岛上有幸存者?
她受过什么样的特训使得她可以训练并领导搜救隊的成員?
她的

金屬手镯

上刻的"R.G."是谁?
登場集數