Annie 是迷失的角色,由系列的製作團隊創作,她在迷失第3季第20集正式登場。
角色簡介
Annie 是達摩計劃的成員,亦是Ben童年時的情人。在Ben來到小島時,Annie主動結識他,從此他們便建立了一份友誼。Annie是第一個記得Ben生日的人,亦與Ben一起讀書,所以他們很快便互相喜歡對方了。4年後,達摩計劃緊急疏散島上的婦孺離開,於是Annie便跟隨她的父母離開了,並沒有再回來。
在小島上
1973年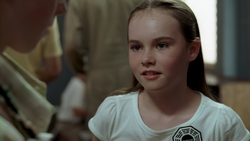 Ben和他的父親Roger來到小島後,便到兵營裡的登記中心進行登記。Annie在登記中心裡主動結識Ben,並向他自我介紹和送了他一排Apollo巧克力。不久,Roger走來帶走了Ben,結束了他們倆的對話。Template:Crossref
Annie和Ben在達摩學校裡讀書,他們都是Olivia的學生。某天,當他們在學校裡進行一個有關火山的實驗時,兵營被敵人突擊了。Olivia命令Annie去把後門給鎖上,after which Annie guided Ben to safety by bringing him to the perimeter of the classroom. Annie attempted to comfort Ben by telling him that it was "just the Hostiles."
Unlike Roger, Annie remembered Ben's birthday, and presented him with a pair of carved wooden dolls, designed to represent herself and Ben. She gave the girl to Ben and kept the boy, telling Ben that because they each had the other's doll, they would never have to be apart from each other. The doll was a significant gift for Ben, and he kept it with him throughout his adult life. Template:Crossref
1977年
Daniel回到小島後,他告訴Chang博士天鵝站將會發生意外,並且會釋放大量能源,因此小島十分危險。於是DHARMA決定疏散島上的婦孺離開,而Annie亦跟隨她的父母一起乘潛水艇離開了,並沒有再回來。Template:Crossref Template:Crossref
其他細節
Annie is a variant of Ann and Hannah, which are of Hebrew origin, meaning "favored grace". Hannah was the mother of the prophet Samuel. After her marriage Hannah initially seemed to be barren. Later, she asked God to bless her with a child, and her prayer was answered.
On the DVD commentary track for "" Damon Lindelof and Carlton Cuse describe Annie and Alexandra as the two most significant women in Ben's life. Annie is described as a character that is going to play a "huge part" in upcoming storylines: "Annie is going to prove to be very significant in Ben's life," and that even the island's volcano will be "slightly less important than Annie, but still seismic."Template:Crossref

However, in the March 11, 2010 podcast, they said Annie is not central to the show in a literal sense, but she instead was a major part of Ben's life and maturation process (e.g. Juliet being a proxy for her).
In the same podcast, they also that Annie and her family may have left the Island two years later in 1975 (her appearance being in 1973).

"Annie" was the first shown alias of Kate, who used it to try to fool Ray Mullen in "Eggtown." In the same episode, Kate's middle name was revealed to be Anne. Kate's full name is Katherine Anne Austen.
Madeline Carroll also appeared in an Allstate commercial that was played during the broadcast of "" on March 2, 2010.
登場集數
導航模板