地點簡介
神秘木屋 是Jacob在小島上的居所,其建筑的属性和位置不确定。
屋子外型
小屋看上去历经沧桑,只有一盏油灯提供一些光亮。拜访Jacob的时候Ben解释过因为Jacob讨厌科技,所以没有电灯。值得注意的是,和barracks中的现代房子不同,这个小屋看上去像是19世纪建造的。John和Ben去小屋时,它距离他们的营地有一天距离,处于密林之中,但和周围有所隔离。在进屋之前Ben敲了门,并通知Jacob他带了一个客人。Template:Crossref
后来Hurley也倒了小屋,门口能看见一个门廊样的结构。Template:Crossref
灰撒成的圈
走进小屋时候, Locke注意到有一条灰撒成的line。他检查了这些灰, 但被Ben催促抓紧时间赶路。Template:Crossref
根据制作人Carlton Cuse和Damon Lindelof在第3季 第20集 ​Season 3 DVD评论 , 这个灰撒成的圈表示出 "某种保护 "或"某种魔力"或"某种牵制"。Ben不敢碰它。在某种意义上讲, 这样是表明Ben有些能力超过Jacob, 而Jacob有些能力超过ben,他们之间有一点stasis。"
屋子内部
Template:Crossref
]]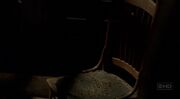 在这间昏暗的房子里有几件很典型的陈旧物品:
一把老摇椅
绘画耗材
六瓶彩色液体
Jacob画得狗的画像
一张空的很脏的旧桌子
桌边有把椅子,座垫上有环状的碎陶片花纹
像是烧木头的炉子的东西
一个老水槽
墙上悬挂着几个绳子和锁链
桌下有一个脚凳
桌边还有一把椅子
一个箱子
墙上有个把梯子,也可可能是从天花板垂下来的
一张床和几把椅子
Locke的经历
Ben and Locke traveled on foot to a location somewhere in the northeast quadrant of the Island (north of the barracks and east of the front section wreckage). After crossing over a line of ash, they reached the cabin and entered.
Ben told Locke that Jacob was sitting in the empty chair in the middle of the room, to which Locke showed disbelief. After Ben began to talk to Jacob in what appeared to be an empty chair, Locke became outraged and raised his voice to Ben. Convinced that Ben was either trying to deceive him or was truly crazy, Locke proceeded to the door, but heard a low voice utter, "Help me." Locke asked Ben to repeat himself, but Ben denied he ever spoke. Locke turned the flashlight on and pointed it at Ben, when the the room suddenly began to rumble and objects shook violently through the house. The lamp fell to the floor and was set alight, the rocking chair began to move back and forth seemingly on its own, and a window smashed. Ben pleaded for Jacob to stop and was thrown against the far wall by an unseen force. At this time, Locke looked back to the chair and for a split second and, a man, presumably Jacob, could be seen. Template:Crossref
Hurley经历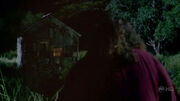 On a trek to warn the survivors about the freighter crew, Hurley fell behind Jin, Bernard, and Sawyer. After wandering in the jungle for just a few brief moments, Jacob's cabin appeared in front of him. Walking up to a broken window and looking inside, Hurley saw Christian Shephard sitting in Jacob's rocking chair. An eye suddenly appeared in front of the hole into which he was looking. Hurley screamed, turned, and ran, but found himself a few steps later again in front of the cabin, as the door opened. He closed his eyes and shouted for it to go away, and when he opened them, Jacob's cabin had disappeared, much as his vision of Charlie would disappear during his flashforward outdoors at the mental hospital. Template:Crossref
Interestingly, Hurley did not see the gray, powdery substance that Locke saw on his visit with Ben. Also, as he came upon the cabin in a small field, neither did he encounter the surrounding trees that Locke saw adjacent to the cabin. When Locke later mentioned that they were going to the cabin, Hurley indicated that he saw the cabin in an entirely different area than the one to which they were heading. Template:Crossref
Locke's attempted second visit
Locke led his group and Charlotte Lewis back to the location in the northeast quadrant of the Island where he had been taken previously by Ben. While he managed to locate the line of ash, he found no cabin at that place. Template:Crossref
Production notes
Trivia
According to the DVD commentary for "", when Ben is talking to the "empty chair", there was no pre-written dialogue for what Jacob was supposed to be saying. Instead, actor Michael Emerson, as part of his preparation, wrote notes in his own script to reflect Jacob's unspoken lines so that he could properly play the scene. This was similar to when he came up with his own notes to write in Ben's diary, the words in which were later approved by the producers.
未解迷题
未解決的謎題
請不要在這裡解釋這些謎題
提出問題時請不要暗示答案
如對以下的未解決謎題有任何推論,請到理論頁面去討論
这个小木屋是什么?
在摇椅上真正有什么物质吗?
坛子中的液体是什么?
小木屋是如何改变位置的?
在Hurly拜访时,第二个在木屋内的人(眼睛)是谁?