暴風站 是迷失的地點,由系列的製作團隊創作,它在迷失第4季第6集正式登場。
地點簡介
暴风站 是DHARMA計劃的一个研究艙,据称它为小岛提供电力,实际上却储存着致命毒气。从幸存者在西边海岸的营地向北走大约一天路程。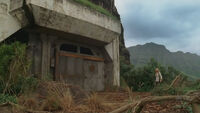 暴风站由两层楼组成一楼是通向主楼层的通道,主要楼层在地下,里面都是计算机系统。其中的一个计算机负责将有毒气体释放到小岛的大气中。The Others控制小岛以后,Goodwin被派驻在那,并在工作时被化学药物烧伤。在第4季 第6集 ​他还提过他不小心拨动一个开关,就能杀死岛上所有的人。

货船上来的Daniel Faraday和Charlotte Lewis中和了站中储存的毒气。他们声称是为了防止Ben使用它杀死岛上的人。
外表样式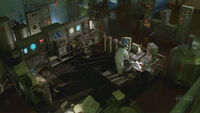 The entrance is a blast door which leads to a corridor. The door has a mechanism that opens it easily. The Tempest logo is visible on the door. The corridor which leads to the main room is quite similar to the corridor in the Staff, opening onto a catwalk on the facility's second story. Blinking lights and speakers are placed on the walls.
化学计算机控制系统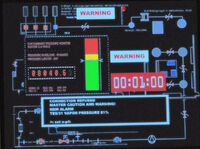 Chemical names on the computer such as thionyl chloride, O-ethyl 2-diisopropylaminoethyl methylphosphonite and N,N-diisopropyl-2-aminoethane thiol are mentioned. These are precursors to the nerve agent VX. The command prompt computer appeared to be a control of the various parts of the machine including commands to open and shut valves and vents and to change the temperature.
The other system seemed to be an interactive process flow diagram with a pressure warning. The computers themselves seem to vary (see the screenshot), but there appears to be a newer PC, and then the old Apple II (it is impossible to tell if this the same prop as the one in the Swan).
The station is later described by Kate as being a "poison gas factory." Template:Crossref
来访者
制片摘要
细节
The Tempest is a play written by William Shakespeare, that tells the story of the sorcerer Prospero and his daughter Miranda, who are stranded on a mysterious desert island that has mystical properties. Prospero raises a storm, or tempest, which causes a passing ship containing his enemies to run aground. Using magic, spirits and a man-beast creature named Caliban, he separates and manipulate the survivors of the wreck for his own purposes. The play ends with Prospero restored to his former glory.
Forbidden Planet is a classic sci-fi film based on Shakespeare's The Tempest. Its storyline features many similar themes to Lost: a mysterious location, geographic isolation, immense power sources, ancient civilizations, hidden underground facilities, an invisible monster, a stranded crew of explorers, lost scientific expeditions, and deadly psychic powers.
Tempest is also the name of an arcade game produced by Atari in 1981. (The producers of Lost named the submarine Galaga after an arcade game.)
The computer keyboards in this station are a modern design, at the very least an IBM/PC AT Enhanced model keyboard, which was released in 1987, having arrow keys and a number pad, demonstrating that the equipment in this station is newer than the other stations that have been shown.
"TEMPEST" is a US government codename for the concealment of so-called "compromising emanations" in part through the use of Faraday cages to contain the electromagnetic radiation of entire buildings.
Producers Carlton Cuse and Damon Lindelof confirmed on the March 10, 2008 Official Lost Podcast that the Tempest was on the blast door map, and that it did play some role in the purge.
登場集數
導航模板