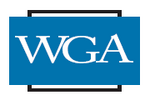 The Writers Guild of America, or (WGA), is the labor union representing writing professionals for television and film productions in the United States. The WGA further consists of two separate entities, Writers Guild of America West and Writers Guild of America East, which together engage in collective bargaining.
As all network television programs are, Lost's Grass Skirt Productions is a WGA signatory. Writers, story editors, and script supervisors perform work that is covered under WGA contracts.
2007–08 strike
After its contracts with the Alliance of Motion Picture and Television Producers (AMPTP) had expired on October 31, 2007, the WGA went on strike on November 5, 2007, lasting until February 12, 2008. Some of the primary issues were residuals for new media distributions, including DVD sales and online downloads and streaming. The previous WGA strike was in 1988. As a member of the WGA contract negotiation committee, Lost executive producer and "show-runner" Carlton Cuse was closely involved in the negotiations.
Industry observers had noted that the Screen Actors Guild (SAG) and Directors Guild of America (DGA) had major contracts that would expire soon in Spring 2008. Therefore, they thought that WGA might have decided to wait until June 2008, when all three unions could strike simultaneously for increased leverage. The WGA decided otherwise.
Lost's various forays into new media such as downloads sales, free downloads and streaming, mobisodes, video games, and DVDs were closely related to the issues being negotiated for a new contract. However, ABC Television Studios is one of the only studios that had followed the DGA, WGA, and SAG's wishes with regards to these new media (all the things the WGA wanted in the new contract) for Lost: Missing Pieces. [1]
Effects on Lost
The strike interrupted production of Season 4 and altered the original plan of a 16-episode run. Having only eight episodes in the can by the time of the strike, ABC decided nonetheless to premiere in early 2008 as intended, even if it meant a truncated season. Cuse and fellow producer Damon Lindelof said that airing a shortened eight-episode season would be contrary to their plan and not ideal, however, they ultimately supported the network's decision not to hold everything over to the next season.
Considering the possibility that episode eight would have to be the season finale, Cuse and Lindelof noted that it happens to contain a small cliffhanger, but not one of the magnitude generally associated with a season finale. They went on to say that the first half of the season was designed to setup questions to be answered in the second half, and that despite the episode eight cliffhanger, fans would feel frustrated in a non-conclusive semi-season. [2] [3]
After negotiations had finally been resolved on February 12, 2008, Cuse stated that they intend to film five additional episodes for Season 4, giving it a total of 13 episodes. The new episodes were not ready in time to air immediately after the first eight, so there was a five week gap between the airings of "Meet Kevin Johnson" and "The Shape of Things to Come". During the writing of the finale, it was decided that an extra hour of TV would be needed to tell the story the production team wished to tell. An extra hour was granted by ABC after a meeting with producers. The season's finale episode was originally scheduled to broadcast in a finale night alongside Grey's Anatomy and Ugly Betty, but due to the extra hour, the broadcast would not have finished till midnight in most parts of the USA. It was decided to introduce a further week break between the last two episodes in order to allow the 2-hour finale to air at a more reasonable time. This extra hour for the finale effectively meant the strike caused the loss of only 2 hours from the originally announced 16 episode run. The 2 missing hours were still produced, with 17 episodes scheduled to be produced in each of the final two seasons, instead of the intended 16 (and with Season 6 later being bumped up to 18).
WGA Awards
In 2006, Lost won the WGA Award for "Writing in a Dramatic Series", with the award specifically going to: J.J. Abrams, Kim Clements, Carlton Cuse, Leonard Dick, Paul Dini, Brent Fletcher, David Fury, Drew Goddard, Javier Grillo-Marxuach, Adam Horowitz, Jennifer Johnson, Christina M. Kim, Edward Kitsis, Jeffrey Lieber, Damon Lindelof, Lynne E. Litt, Monica Macer, Steven Maeda, Liz Sarnoff, Janet Tamaro, Christian Taylor, and Craig Wright.
In 2007, Lost had two nominations for WGA Awards that it did not win, for 1) "Writing in an Episodic Drama" for the episode "Two for the Road" by Elizabeth Sarnoff and Christina M. Kim, and 2) "Writing in a Dramatic Series" for J.J. Abrams, Monica Breen, Carlton Cuse, Leonard Dick, Drew Goddard, Javier Grillo-Marxuach, Adam Horowitz, Dawn Lambertsen Kelly, Christina M. Kim, Edward Kitsis, Damon Lindelof, Steven Maeda, Jeff Pinkner, Matt Ragghianti, Liz Sarnoff, and Alison Schapker.
In 2008, Lost is nominated for "Writing in an Episodic Drama" for the episode "Flashes Before Your Eyes" by Damon Lindelof and Drew Goddard.
See also
External links