Wrecked is a TV series that is a parody on Lost. The 10-episode first season premiered on June 14, 2016, on TBS. Lost might very well be the only TV series to have another professionally produced broadcasting parody TV series based directly on it. The show was cancelled after its third season.
Description
A passenger plane goes down on a deserted island, and the surviving passengers and crew must band together to survive. Unfortunately, the only competent person among them is killed shortly after they arrive, leaving the remaining incompetents and idiots to try and stay alive.
Photos
Credits
Creators: Jordan Shipley, Justin Shipley.
Producer: Jesse Hara.
Executive producer: Ken Topolsky.
Cast
The main cast of Wrecked includes:
Zach Cregger as Owen O'Connor
Rhys Darby as Steve Rutherford
Jessica Lowe as Florence Bittermann
Asif Ali as Pack Hara
Ally Maki as Jess Kato
Will Greenberg as Todd Hinkle
Brooke Dillman as Karen Cushman
Ginger Gonzaga as Emma Cook
Brian Sacca as Danny Wallace
James Scott as Liam
Episodes
Season two
2x10 Nerd Speak 8/22/17
2x09 The Setup 8/15/17
2x08 Speed 8/8/17
2x07 Cruise-ifornication 8/1/17
2x06 Sister Mercy 7/25/17
2x05 No One Rides for Free 7/18/17
2x04 Tony Pepperoni 7/11/17
2x03 Caiman 6/27/17
2x02 Poison 6/20/17
2x01 Ransom 6/20/17
Season one
1x10 Cop Tricks 8/2/16     
1x09 Javier and the Gang 8/2/16     
1x08 The Adventures of Beth and Lamar 7/26/16     
1x07 The Trial 7/19/16     
1x06 The Phantom 7/12/16     
1x05 Tubthumping 7/5/16     
1x04 The Community Pile 6/28/16     
1x03 Always Meant to See That 6/21/16     
1x02 Rest in Peace, Callaway Hinkle 6/14/16     
1x01 All Is Not Lost 6/14/16
Trailers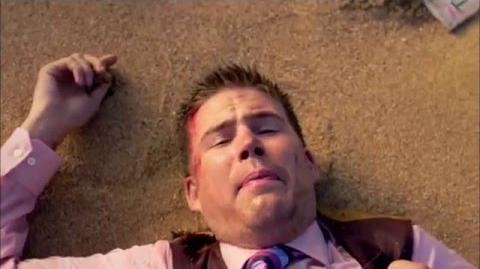 External links
Community content is available under
CC BY-NC-ND
unless otherwise noted.