William Sanderson portrayed Oldham in "He's Our You."
Background and Personal Life
William J. Sanderson was born on January 10, 1948, in Memphis, Tennessee, to an elementary school teacher and a landscaper. After graduating from high school, Sanderson enlisted in the army, serving two years before returning home in order to study law at Memphis State University. Sanderson then moved to New York to try acting, where he starred in several off-Broadway plays.
Sanderson currently lives in Burbank, California, with his wife Sharon Wix and their son Edward.
Career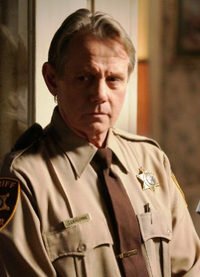 Sanderson's first film role came in the TV movie The Other Side of Victory in 1976. The next year, he starred as the serial killer Jessie Lee Kane in Fight for Your Life. In 1979, Sanderson guest starred as a "weirdo" in Starsky and Hutch before appearing the next year in Coal Miner's Daughter the next year. That same year, he appeared as "Collins" in the popular television show The Dukes of Hazzard. 1982 brought Sanderson his real break: the role of J.F. Sebastian in the cult science-fiction film Blade Runner. The same year, Sanderson guest starred in an episode of Knight Rider. After several small television and movie roles, Sanderson appeared in an episode of The Twilight Zone in 1988, and Lonesome Dove in 1989. Sanderson became a recurring character in the sitcom Newhart throughout the 1980's, appearing as the character Larry. In 1991, he appeared in The Rocketeer. A role in Matlock came in 1994, as well as guest roles in Babylon 5 and in The X-Files. In 1996, Sanderson guest starred in Walker, Texas Ranger, as Will Stanton. Sanderson would again guest star on Walker, Texas Ranger, albeit in a different role, in 2001. In 2004, he became a regular on the HBO series Deadwoodin the role of "E.B. Farnum." After the show ended in 2006, Sanderson guest starred on the show Life before moving to True Blood, another HBO production.
On Lost
In 2009, Sanderson was cast on Lost as Oldham, a DHARMA Initiative interrogator. Oldham appeared in the episode "He's Our You."
Trivia
There has been some discrepancy over Sanderson's birth year. While some sources claim that it is 1948, IMDb has it listed as 1944.