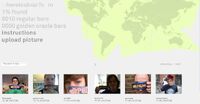 The main site image, showing a world map of found bars as well as images of recent finds
The "whereisalvar.com" site is no longer in use by Lost media.
WhereIsAlvar.com was a website that became part of The Lost Experience on August 23. It was hosted on the same server as the other Lost Experience websites (DJDan.am, TheHansoFoundation.org etc). The site's URL is printed on the Apollo Candy bars being distributed in August and September, at Forbidden Planet stores in the U.K. and ApolloCandy.com Events in the U.S and at various comic stores in Australia supplied by Lost Ninja and Speaker.
Fans who receive an Apollo bar can post their picture with the wrapper online for others to see. Locations are also added to a world map, effectively showing the Hanso Foundation where the enemy is, and how widespread it is.
During testing of the site, photos links were available. In one, there is a reflection of what appears to be a man in a plaid shirt and a woman that is faded over the children (see here). It was later revealed that they were in fact relatives of Nicky, from Hi-ReS!, who made the Hanso Foundation Website.
Updates
August 24th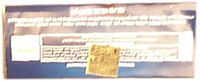 The first Golden bar, found by Attillia
The site went active after Rachel Blake sent links to the site in e-mails and the Apollo bars had the website inscribed inside. On the website, Rachel gave instructions for people to upload pictures of themselves with the Apollo candy bars. The site will keep a tally of both 'Regular Bars' and 'Golden Oracle bars'. Rachel also mentions that when enough Apollo bars have been found, she will reveal further instructions and reveal some big "truth" about the Hanso Foundation.

September 18th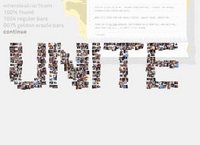 The updated main page of whereisalvar.com
The site finally reached 100%, and displayed a message from Rachel:
"

YOU'VE STUCK WITH ME. SHOWN YOUR SUPPORT. FOUGHT THE HANSO
FOUNDATION TOOTH AND NAIL.


NOW IT'S TIME FOR THE WHOLE TRUTH. ABOUT THEM. ABOUT ME.


TUNE IN TO DJ DAN SUNDAY, SEPTEMBER 24 AT 8PM EST. AND HELP ME,
ONCE AND FOR ALL... TO SHUT IT ALL DOWN!

- RACHEL

"

Share personal experiences of individual U.S. giveaways at ApolloCandy.com Events.