Vigi Benoffski is a noted mathematician who died in a fire at the Vik Institute, a Hanso Foundation run facility. He was allegedly a visitor at the Institute, but was suspiciously in the basement at 3:00 am.
Rachel Blake discovered that Benoffski had been working with a number of mathematicians and autistic savants in the Institute basement to solve the Valenzetti equation, a mysterious mathematical formula that predicts mankind's extinction.
There is some speculation that Benoffski's family were silenced after the accident, as Mittelwerk would later comment that they would not go public, "I've seen to that."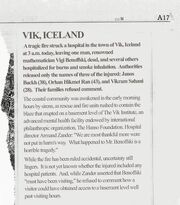 A newspaper article reported on the fire, mentioning Benoffski's death.
"

A tragic fire struck a hospital in the town of Vik, Iceland at 3a.m. today, leaving one man, renowned mathematician Vigi Benoffski, dead, and several others hospitalized for burns and smoke inhalation. Authorities released only the names of three of the injured: Janos Backh (38), Orhan Hikmet Ran (43), and Vikram Sahani (28). Their families refused comment

The coastal community was awakened in the early morning hours by sirens, as rescue and fire units rushed to contain the blaze that erupted on a basement level of The Vik Institute. Hospital Director Armand Zander, "We are most thankful more were not put in harm's way. What happened to Mr. Benoffski is a horrible tragedy."

While the fire has been ruled accidental, uncertainty still lingers. It is not yet known whether the injured included any hospital patients. And, while Zander asserted that Benoffski "must have been visiting," he refused to comment how a visitor could have obtained access to a basement level well past visiting hours.

"
Rachel Blake interviewed Armand Zander, Director of the Vik Institute. He offered more information as to why a mathematician was present at his hospital in the early hours of the morning.
Rachel recorded a conversation between Thomas Mittelwerk, Peter Thompson and an unidentified woman. They briefly mention Benoffski before going on to further debate about the validity of the Valenzetti equation. Hear the full audio here.
"

TM: I admit the fire sets us back, but all we've really lost is time.

Woman: And Vigi Benoffski. If his family goes public…

TM: They won't, I've seen to that.

Woman: We're already funnelling millions into your mental programmes without knowing if this equations even…

TM: You say it like its an insult, "mental programs". The Mental Health Appeal is the centre-piece of all our future plans.

"
Community content is available under
CC BY-NC-ND
unless otherwise noted.