---
Please post questions or comments below:
Resigned?
Did you resign as a SysOp?--Mistertrouble189 21:27, 13 April 2009 (UTC)
Ah I see, well we're still glad to have you as a valued editor and contributor here!--Mistertrouble189 01:44, 14 April 2009 (UTC)
what happened to pandora??? plz let me know i know im a couple years lost but ive been going to scool i want to be back and help--Jen23md(talk) 07:20, 1 May 2009 (UTC)
New Spoiler Policy
I have created a new spolier/promotional material policy that I feel correctly addreses the issues at hand: titles, ignored discussions, and the fact that our motivation is contradictory to our policy. The policy is in two parts. The first part deals with spoilers and can be found here. The second part deals with promotional material and may be found here. I would like you to weigh in so improvements may be made before I submit it to be an official policy. Thanks! cgmv123TalkContribsE-mail 13:30, 24 July 2009 (UTC)

The blast door map was seen in an episode, thus neither spoiler nor promotional material, and the Cerbeus statement was a producer statement, and could be added to the appropriate in-universe and out of universe articles. cgmv123TalkContribsE-mail 13:16, 26 July 2009 (UTC)
Hieroglyphs
Just thought you should know I just posted the translation of the glyphs to the hieroglyphs page. It appears to mean something along the lines of "Who is the leader?". Also, thanks for the positive words about my user page, I definitely have had fun working on all that. Best £乚ב○艹Ю Zholmboe Talk 02:02, 27 July 2009 (UTC)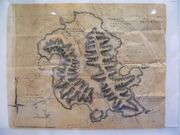 I just sat down and did the same thing y'all have been working on. Here's what I came up with (see thumbnail). Other than formatting, here are the most significant places they differ:

There was one missed "The River"
I read one word differently after the location of the transmitter, I read "TREK DANGERUEX POUR APPROCHER LE FUMEE", "Dangerous Trek, due to the smoke's approach."
The notation at the bottom I thought was "L'ENDROIT DERNIER OU J'AI VU ALEX", "The last place I have seen Alex."
In the bay of crabs I read: "GRANDE QUANTITE DE CRUSTACES ET CRABES", "Great quantity of shellfish and crabs."
In the beach to the northwest, I translated the notation as, "The Beach (This place has a depth of a meter, and a length of 1.5 km"

I think that everything is pretty sound, the exception being "FUMEE". I've seen angles where it genuinely does look like "FUMEE", but in this new image it doesn't. It looks more like AUMET, but if that is a french word, it isn't one with which I'm familiar. I speak some French, and the translations you all did look pretty darned good. Let me know what you think. £乚ב○艹Ю Zholmboe Talk 21:05, 30 July 2009 (UTC)
Lost University
I created Lost University/History 101: Ancient writing on the wall and I wanted to ask for your opinion. If you think that it will work good for all the other LU classes I'll create their articles as well. --Orhan94 21:54, 30 July 2009 (UTC)
I'll try and do at least the first semester as it's past midnight where I am. I think that making the list of articles on the existing Template:LU into a list of links would be fine for now, and we can make a template for he bottom of the article was the ARG is officially launched and once we'll need to put characters, events and items on it as well. --

Orhan

94

22:29, 30 July 2009 (UTC)
MIA
Hey nick, I miss y'all too, I've been super busy with some life changes. I'll try to edit more and hang on IRC(s) when I get a breather. And of course I'm already looking for the big maintenance push after S6 is over and the theory fans stop posting. How's your schedule these days, I thought uni was keeping you busy! -- Contrib¯ _Santa_ ¯  Talk  19:56, 2 August 2009 (UTC)
Temple plans glyphs
I hadn't seen that yet. Thanks for the tip! I haven't been able to make much of it yet, but hopefully with a little time I will. Again, thanks. £乚ב○艹Ю Zholmboe Talk 14:35, 13 August 2009 (UTC)
LOST Literary League
Hi Nick, We currently have a LOST Book Club here at Lostpedia. As I have been researching images and book information, I noticed there was a similar group at Lostpedia before, the Lostpedia Literary League. You created a Lostpedia Literary League logo with the DHARMA logo image and it is currently locked by you. Just wondering if there is any chance we can get it unlocked. I would want to save the current image as a historical record of the site. However, if it's possible, I would also like to make a modification from "LLL" to our current acronym, "LBC". Please let me know if you support this request, and how we may be able to proceed. It would be awesome, if you were to return to Lostpedia and join our LBC/LOST Book Club. Thanks for your consideration. --Just Sayin' JSTalk LBC LBCTalk eMail 14:16, September 9, 2010 (UTC)
P.S. Your "help" guide has been very, well, helpful to me as I have learned to edit and create on Lostpedia. Thank You for the time you put in to create these guidelines. --
Just Sayin'
JSTalk
LBC
LBCTalk
eMail
14:22, September 9, 2010 (UTC)
Community content is available under
CC BY-NC-ND
unless otherwise noted.