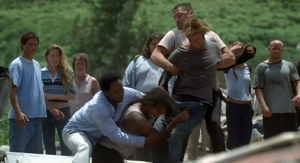 Hey there fellow Losties. My Name is Nick De Fina, I'm from Staten Island, and just like the rest of you I am here because of the greatest show ever, Lost.
My user name obviously comes from Sawyer's first Centric episode in the 1st season, my favorite character by far. I'm a character fan, not a mystery fanatic, but I enjoy them all the same.
Feel free to talk to me, Always up to a good conversation, partners. I visit daily so I can always get back to you, especially the women, if there are even women on here.
There's a new Sheriff in town boys, ya'll better get used to it.
http://1.bp.blogspot.com/_-pGkeGjJTvs/ShylthPUPsI/AAAAAAAAJCA/4zoPkW_A3GI/s400/sawyer_julietfalls.jpg
Possibly the most heartbreaking scene of the show, amazing acting.
http://www.appetitefordeconstruction.com/jacob_mib.jpg
It only ends once, anything that happens before that is just progress <3
http://jimblazsik.files.wordpress.com/2010/06/lost31.jpg
Perfect ending in my opinion, teared me apart inside.
Community content is available under
CC BY-NC-ND
unless otherwise noted.