The Girls
Important Characters
Throughout her time both on and off the island, several characters became very close to Eve.
Picture
Name
Origin
Status
Faction
Roles and Relationships

Adam Spencer
Paisley, Scottland, UK
Semi-Prominent; Deceased Off-Island
Family
Adam is Evelyn's husband. The were married on September 22, 2003. He was killed in a car accident 8 months before Evelyn crashed on the island.

Brian
Los Angeles, California, USA
Semi-Prominent; Alive Off-Island
Kenny is Evelyn's best friend. He traveled with her to Australia but left a few days earlier.

Rose Nadler
The Bronx, New York, USA
Prominent; Alive On-Island
Oceanic 815 Survivor
Rose quickly became Evelyn's friend on the island.

Libby Smith
California, USA
Prominent; Deceased On-Island
Oceanic 815 Survivor
Evelyn met Libby shortly before boarding flight 815.

Janelle Granger
Hermosa Beach, California, USA
Prominent; Alive On-Island
Oceanic Flight 815 Survivor
Janelle Granger was a survivor who constantly wrote in her diary. It is currently unknown what happened to her.

Jeff Hadley
Isle or Arran, Scotland
Prominent; Deseased On-Island
Oceanic Flight 815 Survivor
Jeff Hadley was an artist who was unaware that his ex-girlfriend, Savannah McCulloch died along with his unborn child. While on the island, Jeff began to have romantic feelings for Evelyn.

Steve Jenkins
Santa Cruz, California, USA
Prominent; Unknown
Oceanic Flight 815 Survivor
Steve Jenkins survived the crash with his friend Scott Jackson. He is often confused with Scott. His current status is unknown.

Tracy Peters
Fresno, California, USA
Prominent; Unknown
Oceanic Flight 815 Survivor
Tracy Peters has a husband and two children back in Fresno, California. Despite this, she develops a relationship with Steve Jenkins. Her current status is unknown.

Doug Corrigan
San Francisco, California, USA
Prominent; Deceased
Oceanic Flight 815 Survivor
Doug survived the crash of Oceanic Flight 815.

Craig
Los Angeles, California, USA
Prominent; Unknown
Oceanic Flight 815 Survivor
Craig survived the crash of Oceanic Flight 815. His current status is unknown.



Evelyn Spencer
This article or section is under construction


Expect many and frequent revisions to this content.

Evelyn Spencer (née Dale), more commonly known as Eve or Evie is one of the middle section survivors or Oceanic Flight 815. Eve lived on the island nearly 100 days before it began to flash through time where she was separated from most of the survivors. She eventually escaped the island by unknown means. She later returned to the island on Ajira Flight 316.
Before the Crash
Meeting Adam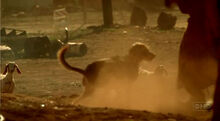 Not much is know about her early childhood other than she grew up in Romford, England. At the age of 18, Evelyn, known as Evie to her friends, attended University of London and received a degree in Journalism. Evie worked various small jobs in London, until she traveled to Africa on a vacation with friends. Evie spend a year in Africa and another year in South America helping local villages with things like food and shelters. In 2000, Evie accepted a position in New York City working for the New York Times. After working for the times for four months, Evie accepted a job at National Geographic. In September 2002, whilst on a trip to Nigeria, Evie met Adam Spencer. The couple dated for eight months, and became engaged. The couple married in England on September 22nd, 2003. In December of that year, Adam and Eve (a name dubbed by their friends), learned that they were pregnant.
Car accident
Tragically, on February 4, 2004 the couple was in a car accident that left Evie in a coma and killed Adam and their unborn baby girl. Evie remained in a coma for four months. While she was in the hospital, she was visited by Jacob. She was heartbroken when she learned that her husband and unborn daughter were killed. After she awoke, Evie's grandmother, Leslie helped her out. Evie fell into depression after her car accident.
Flight 815
When standing in line at a coffee shoe in Sydney Airport Eve, meets Libby who does not have enough money to buy her coffee. Eve pays for her drink and the two sit at a table a talk. They later part and board Oceanic Flight 815. Eve is asleep for most of the flight, but is awoken but turbulence. She talks to the man sitting next to her for a bit. Eve's seatbelt is unfastened when the plane severely drops. She flies up and hits the ceiling and cannot get back into her seat. Paul, the man sitting next to her, get's out of his seat and get's Eve into her seat and fastens it and puts her air mask on. The tail section is then ripped off and Paul is killed as he is sucked out of the plane. Eve then blacks out.
On the Island
Days 1-44 (Season 1)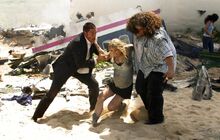 When Eve comes to after the crash she is hanging upside down in her seat. Still disorientated, she begins running around the crash site attempting to help any injured passengers. After the initial chaos, she finds Rose and takes her away from the fumes of the plane. That night, she askes the doctor if there is anything that she can do. He asks if she can look after a man who's leg was badly injured in the crash. She agrees and watches over him. Sometime later a large man brings her and Rose some chicken from the plane. Soon after the injured man she is watching mumbles "Savannah" over and over again. She later hears the monster. On her second day on the island, Eve meets fellow survivor Janelle Granger. Over the next week on the island Eve helps Jeff with his injured leg. When Joanna drowns Eve attempts to console Janelle. When Jack delivers his "Live Together, Die Alone" speech she becomes mesmerized with his ability to lead. However, when Jack wants to move to the caves, Eve remains at the beach, but remains loyal to Jack. Eve is relieved when Hurley manages to build a golf course on this island. When Eve hears of Claire's kidnapping, Eve joins Michael's search party. When the fuselage begins to erode into the ocean, Eve helps Scott Jackson and Steve Jenkins move the camp up the beach. Eve builds her shelter with a great view of the ocean. About a week after moving to their new beach location, Janelle discovers Scott's body on the beach. It is only a few weeks later that Boone is killed and Aaron is born. Eve wants to talk to Shannon about her loss, but when she goes up to her, Shannon doesn't say anything. Eve wakes up to Danielle Rousseau warning the survivors that the others are coming. Eve places a message in the message bottle going on the raft. Eve then heads towards the caves with Janelle.
Days 44-67 (Season 2)
Eve waits nervously at the caves. Along with Tracy, she asks Charlie about "The Others" and Rousseau. She is shocked to learn about the presence of the hatch in the jungle. Within a few days of the survivors opening the hatch, Eve ventures inside and takes a real shower for the first time in nearly 46 days. Eve welcomes the tail section survivors to the camp. She meets Bernard who she has learned a lot about from Rose. She helps Libby by giving her supplies for her shelter, and giving her new clothes. Eve learns from Libby what happened do them on the other side of the island. She also learns about Emma and Zach. One day, while Eve is in the camp kitchen Libby asks her if she knows where any blankets are. Eve tells her that she had just washed some and they should be in the dryer in the hatch. Eve offers to go get them for her, but Libby says that she will go get them. She says good-bye to Libby and goes about her business. The next day Eve learns from Sun that Libby and Ana Lucia were killed. Eve is devastated and attends their funeral. She is surprised when Desmond shows up on The Elizabeth. The next day, Eve talks to Rose about Libby and how to deal with the grief of losing someone you care about. While she is talking to Rose, the discharge happens. Bernard soon rushes over to see if they were okay. Eve helps clean up camp when Charlie returns from The Swan.
Days 68-91 (Season 3)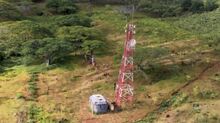 Eve becomes quite depressed after the deaths of Libby and Ana Lucia. This depression is furthered when the monster kills Mr. Eko and it is revealed that the others capture Jack, Kate, and Sawyer. Jeff Hadley manages to console Eve and they two begin to bond. They spend more time together and Eve even gets Jeff to move into the camp. Eve tags along with Steve one day as he collects water from the caves for the camp. While walking back to camp, the sounds of the monster are heard. It beings to chase them and they manage to escape by diving into the pool of water underneath the waterfall. She celebrates her 27th birthday on the island. Eve is excited when she hears about the freighter 80 off the coast of the island. When Jack shows the main characters his plans to defeat the others, Eve watches Aaron. She travels with the rest of the survivors to the radio tower to make contact with the freighter.
Trivia
Unanswered questions
What was Eve doing in Australia?
How exactly did Eve manage to escape the island?
Current Survivors of Oceanic Flight 815
Picture
Name
Status
Roles and Relationships
Section

Aaron Littleton
Semi-prominent, Alive; *born on the Island (Day 41); escaped the Island (Day 100).
Child; biological son of Claire; adopted son of Kate; nephew of Jack; member of the Oceanic 6.
Middle

Walt Lloyd
Prominent, Alive; escaped the Island (Day 67).
Teenager; son of Michael.
Middle

Kate Austen
Prominent, Unknown; shifted to 1977 on the main Island and joined the DHARMA Initiative. Helped detonate Jughead's core in the Swan.
Former adoptive mother of Aaron; ex-fiancé of Jack; member of the Oceanic 6.
Middle

James "Sawyer" Ford
Prominent, Unknown; shifted to 1974 on the main Island and joined the DHARMA Initiative. Helped detonate Jughead's core in the Swan.
Former boyfriend of Juliet.
Middle

Claire Littleton
Prominent, Unknown, last seen in Jacob's cabin..
Mother of Aaron; half-sister of Jack; girlfriend of Charlie, prior to his death.
Middle

Hugo "Hurley" Reyes
Prominent, Unknown; shifted to 1977 on the main Island and joined the DHARMA Initiative. Helped detonate Jughead's core in the Swan.
Millionaire; member of the Oceanic 6.
Middle

Rose Nadler
Semi-prominent, Unknown; living in 1977 on the main Island.
Wife of Bernard; owner of Vincent.
Middle

Janelle Granger
Prominent. Last seen flashing through time.
Passenger.
Middle

Steve Jenkins
Minor. Unknown. Not seen during flaming arrow attack.
Passenger.
Middle

Tracy
Minor. Unknown. Not seen during flaming arrow attack.
Passenger.
Middle

Craig
Prominent. Last seen during flaming arrow attack.
Passenger.
Middle

Edward Mars
Semi-prominent, Deceased; badly injured in crash, euthanized by Jack (Day 3).
United States Marshal who followed and arrested Kate; Redshirt.
Middle

Joanna Miller
Minor, Deceased; drowned when carried away by a riptide (Day 6).
Redshirt.
Middle

Scott Jackson
Minor, Deceased; murdered (Day 29).
Redshirt.
Middle

Boone Carlyle
Prominent, Deceased; died from massive internal bleeding (Day 41).
Step-brother of Shannon; apprentice of Locke.
Middle

Leslie Arzt
Semi-prominent, Deceased; exploded while handling dynamite (Day 44).
Science teacher; Redshirt.
Middle

Shannon Rutherford
Prominent, Deceased; accidentally shot dead by Ana Lucia (Day 48).
Translator; Step-sister of Boone; love interest of Sayid
Middle

Nikki Fernandez
Prominent, Deceased; buried alive (Day 81).
Girlfriend of Paulo; Redshirt.
Middle

Paulo
Prominent, Deceased; buried alive (Day 81).
Boyfriend of Nikki; Redshirt.
Middle

Charlie Pace
Prominent, Deceased; drowned at The Looking Glass (Day 91).
Boyfriend of Claire.
Middle

Doug
Minor, Deceased; shot dead by the Freighties (Day 97).
Redshirt.
Middle

Blonde Casualty
Minor, Deceased; shot dead by the Freighties (Day 97).
Redshirt.
Middle

Jerome
Minor, Deceased; shot dead by the Freighties (Day 97).
Redshirt.
Middle

Unnamed
Minor, Presumed dead; during the Freighties barracks raid (Day 97).
Redshirt.
Middle

Michael Dawson
Prominent, Deceased; killed when Kahana exploded (Day 100).
Father of Walt.
Middle

Unnamed
Minor, Deceased; killed when Kahana exploded (Day 100).
Redshirt.
Middle




Unnamed
Minor, Deceased; killed when Kahana exploded (Day 100).
Redshirt.
Middle

Unnamed
Minor, Deceased, killed when Kahana exploded (Day 100).
Redshirt.
Middle

Neil "Frogurt"
Minor, Deceased; struck with flaming arrows (1954).
Frozen yogurt producer; Redshirt.
Middle

Sullivan
Minor. Unknown. Not seen during flaming arrow attack.
Redshirt
Middle

Richard
Minor. Unknown. Not seen during flaming arrow attack.
Redshirt
Middle

Wayne Geiger
Minor, Presumed dead; during flaming arrow attack (1954).
Redshirt.
Middle

Beth Merritt
Minor, Presumed dead; during flaming arrow attack (1954).
Redshirt.
Middle

John Ludwig
Minor, Presumed dead; during flaming arrow attack (1954).
Redshirt.
Middle

Steve Tanizaki
Minor, Presumed dead; during flaming arrow attack (1954).
Redshirt.
Middle

Vera Stone
Minor, Presumed dead; during flaming arrow attack (1954).
Redshirt.
Middle

EZ
Minor, Presumed dead; during flaming arrow attack (1954).
Redshirt.
Middle

Lisa Romano
Minor, Presumed dead; during flaming arrow attack (1954).
Redshirt.
Middle

Tom Reese
Minor, Presumed dead; during flaming arrow attack (1954).
Redshirt.
Middle

Reuben Games
Minor, Presumed dead; during flaming arrow attack (1954).
Redshirt.
Middle

Unnamed
Minor, Presumed dead; during flaming arrow attack (1954).
Redshirt.
Middle

Unnamed
Minor, Presumed dead; during flaming arrow attack (1954).
Redshirt.
Middle

Unnamed
Minor, Deceased; blown up by explosives (1954).
Redshirt.
Middle

Unnamed
Minor, Deceased; blown up by explosives (1954).
Redshirt.
Middle

John Locke
Prominent, Deceased; murdered by Ben (2007).
Former leader of the Others.
Middle

Sayid Jarrah
Prominent, Unknown; shifted to 1977 on the main Island. Helped detonate Jughead's core in the Swan.
Husband of Nadia; member of the Oceanic 6.
Middle

Jin-Soo Kwon
Prominent, Unknown; shifted to 1974 on the main Island and joined the DHARMA Initiative. Helped detonate Jughead's core in the Swan.
Husband of Sun.
Middle

Sun-Hwa Kwon
Prominent, Alive.
Wife of Jin; member of the Oceanic 6.
Middle

Jack Shephard
Prominent, Unknown; shifted to 1977 on the main Island and joined the DHARMA Initiative. Helped detonate Jughead's core in the Swan.
Doctor and surgeon; half-brother of Claire; ex-fiancé of Kate; member of the Oceanic 6.
Middle






Quick Links