Captain

Insano

Name
Captain Insano
Date of Birth
Fourth of July
Place of origin
Current location
Quote
"I did not have sexual relations with that woman."
TV Shows
Lost, 24, Survivor, WWE Smackdown, WWE RAW, Saturday Night Live, My Name is Earl,
The Office, Seinfeld, ECW, ESPN SportsCenter
Movies
We Were Soldiers, Man on Fire, Troy, Lord of the Rings, Mission Impossible 3, Saving Private Ryan,
Black Hawk Down, Kingdom of Heaven,
Anchorman: The Legend of Ron Burgundy,
Wedding Crashers, Waterboy, Munich, Friday Night Lights, Austin Powers, King Arthur, Gladiator, The Patriot, Windtalkers, 16 Blocks, Deep Impact,
Forrest Gump, Dodgeball: A True Underdog Story, Talladega Nights: The Ballad of Ricky Bobby,
The Prestige, Batman Begins, Borat, United 93,
The 40-Year-Old Virgin, Crash, Braveheart,
Animal House, Pirates of the Caribbean,
Road to Perdition, World Trade Center, Casino Royal, 300
Books
The Bible, Lord of the Rings, The Harry Potters,
We Were Soldiers Once... And Young, The Iliad,
The Odyssey, Da Vinci Code, Angels & Demons,
Deception Point, In the Company of Heroes,
Black Hawk Down, Band of Brothers, Flyboys,
The Biggest Brother, Hawke Series
Sports Teams
University of North Carolina Tar Heels,
Green Bay Packers, DEI, Boston Red Sox
Podcasts I'm Subscribed To
Official Lost Podcast & Delta Park Gets Lost
My Featured Article of the Second
To View Click Here
Jack, Kate, Sawyer, Sayid, Hurley, Jin, Sun, Charlie, Claire, Aaron, Michael, Walt, Boone, Shannon, Locke, Eko, Ana-Lucia, Libby, Rose, Bernard, Desmond

Cindy, Danielle, Kelvin, Radzinsky, Leslie Arzt, Alvar Hanso, Gerald DeGroot, Karen DeGroot, Vincent

"Him", Ben, Tom, Bea, Ethan, Goodwin, Juliet, Alex, Danny, Amelia, Adam, Colleen

The Black Rock, The Swan, The Staff, The Arrow, The Flame, The Hydra, The Pearl, The Balloon, Church, Pala Ferry, Utopiaville, The Door

The Black Rock, Blast Door Map, The Cable, The Discharge, The Distress Signal, Hieroglyphics, Kate's Horse, The Lockdown Incident, The Monster, The Numbers, The Pillar of Smoke, Polar Bears, Pushing the Button, The Shark, The Statue, Supply Drop, Whispers
Favorites and Least Favorites
Season 1 vs. Season 2
Season 1: Was basically the foundation. It made me say "What the Hell is this Island". The Pilots I'll give a B. The middle of the season I will give a C. The last four episodes get an A, it jumped up a lot during the Exodus, Parts 1 & 2. It went out with a giant bang.
Season 2: This season started to answer the question. It was the chocolate syrup on the ice cream. While answering questions, others developed. The Beginning (first three episodes) I gave an A. The middle had it's highs and lows put was pulled up by Lockdown and One of Them, it gets an B. The final four made me crap myself. All of those four episodes were must-see. The Deaths, The Others, Desmond, The Expolsion, The Cause of the Crash, The Plan, The Sailboat, and The Sex. The End recieves a perfect A+.

In My Mind the Winner is: Season 2
Top Ten Favorite Episodes (1 being the Best)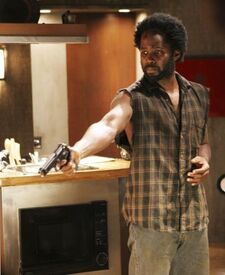 10) ?
9) Every Man For Himself
8) Three Minutes
7) Solitary
6) Lockdown
5) Exodus: Part 1
4) Man of Science, Man of Faith
3) Exodus, Part 2
2) Two for the Road
1) Live Together, Die Alone
Top Ten Least Favorite Episodes (1 being the Worst)
10) Adrift
9) ...And Found
8) House of the Rising Sun
7) Everybody Hates Hugo
6) White Rabbit
5) Fire + Water
4) Whatever the Case May Be
3) Collision
2) Hearts and Minds
1) S.O.S.
My Signature
This user has been recognized as a
Lostpedia Hard Work Medal recipient.
| | |
| --- | --- |
| 10000 | This user has made over 10000 edits on Lostpedia. |
Medal of Assistance

This user has been recognized for providing enormous help in an ongoing Lostpedia project.
Lostpedia Medal of Assistance recipients.

This medal has been awarded for contributing an enormous amount of work assisting with the Automobiles featured in Lost article, as well as painstakingly finding images to add to articles across a wide swath of all of Lostpedia.
Community content is available under
CC BY-NC-ND
unless otherwise noted.