Multiple Realities
(Covers information from Both Timelines)
"United States in Lost" redirects here. For real life USA broadcast and fan information, see United States of America.
Main Characters from the United States of America

(* born in the U.S., but lived overseas most of his life.)
Important American Companies
Mittelos Bioscience · Mr. Cluck's Chicken Shack · Apollo Candy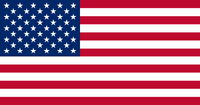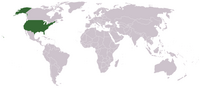 Characters/Locations by State
See world locations for the same listing (and locations in other countries) by city instead of state.
Alabama
Arizona
California
Colorado
Florida
Georgia
Hawaii
Idaho
Illinois
Indiana
Iowa
Louisiana
Massachusetts
Michigan
Minnesota
Ben repeatedly lied and claimed this identity, saying that he owned a mining company from Minnesota.
Set photos revealed that the hot air balloon had a sticker from the sponsor, Minnesota Metallurgy. (behind-the-scenes fan picture)
Kate had a Minnesota license plate. ("

Born to Run

")
In the polar bear cave, a Tonka truck was found on the ground by Locke. TONKA brand toys are made by the "Mound Metalcraft Company" in Mound, Minnesota. Mound is located on the same Lake (Minnetonka) as Wayzata. The word TONKA means "Great" in the Sioux language. ("

Further Instructions

")
Missouri
Nebraska
Kate changes her car's license plate from Nebraska to Ohio. ("

Born to Run

")
Nevada
New Jersey
New Mexico
New York
North Dakota
Ohio
Oregon
Pennsylvania
Tennessee
Texas
Vermont
Washington
Wisconsin
Employed by the US
For members of the United States (and other) military, see
See also
Community content is available under
CC BY-NC-ND
unless otherwise noted.