For real life UK broadcast and fan information, see United Kingdom.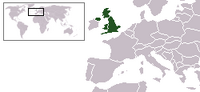 Characters
Main Characters from the United Kingdom
Other characters from the United Kingdom
Charles Widmore, Naomi Dorrit, Liam Pace, Brother Campbell, Megan Pace, Karen Pace, Simon Pace, Donovan, Ruth, Derek, Lucy Heatherton, Francis Heatherton, Tommy, Jimmy Lennon

Important UK Companies
Locations
Bromsgrove
Charlotte Lewis was (supposedly) raised in Bromsgrove, near Worcester, England.
Carlisle
Essex
Glasgow
Desmond Hume was from Glasgow where he was in the Royal Scots Regiment. His army camp, Camp Millar, was located north of Glasgow. ("

The Constant

")
Kent
Eddington
Halstead
Lancashire
Drive Shaft were touring through Clitheroe (a town in Lancashire) when Charlie heard one of Drive Shaft's songs on the radio - one of the best moments of his life according to his list. ("

Greatest Hits

")
London
Manchester
Oxford
Portsmouth
Slough
On Hanso Foundation website:

It is mentioned on that Alvar Hanso was present in London on 14 June 2000, one of the rare public appearances by the Hanso Foundation's CEO & Founder.
There is a directory at the site named London; it is empty.

A video that posted by Persephone shows Hugh McIntyre in London, with a women who is purportedly not his wife (GidgetGirl).
Two of the Hansoexposed.com glyphs were found in real-world locations in the UK, as well as numbers other glyphs hidden on UK-based websites.
Location map
Trivia
The UK was featured in every single season of Lost except for Season 6. This is because the majority of episodes in the season used the flash-sideways narrative, which was set entirely in Los Angeles.
See also