"United Kingdom" redirects here. For locations and characters from the UK in Lost, see United Kingdom in Lost.

In the United Kingdom, Lost Seasons 1 and 2 were broadcast on Channel 4 and S4/C. Lost moved to Sky1 in November 2006. Sky1 began to broadcast just 4 days after the original broadcast in America. Sky1 HD also simulcasted Lost at the same time, offering those with a HD subscription and equipment the chance to enjoy Lost in greater visual and audio quality.
Sky currently air Lost late on weeknights (usually between 1am and 2am) on Sky1's sister channel, Sky2.
Airing times

Season One
Promotion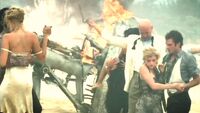 Channel 4 showed a memorable promotional video for Lost, which had the characters paired up as dancing partners. Foreshadowing is evident with details such as Boone and Claire dancing together (symbolizing life and death), Locke and Walt conducting, and other details such as Kate swapping between Jack and Sawyer as her dance partner and Sayid and Shannon dancing together. The trailer was directed (and presumably written) by David LaChapelle for Channel 4, and was one of the only promotional trailers to be specifically shot with the cast (as opposed to simply using Pilot episode clips).
The promotional exists in two versions. The original was longer and was soundtracked with the song "Numb" by Portishead (opening lyrics: "I'm ever so lost, I can't find my way"), the other was cut down and edited to fit both background music and voice-overs from the cast:
"

All of us have a secret,

One of us is a hero,

One of us is a fraud,

One of us is a junkie,

One of us is a cop,

One of us is a saint,

One of us is a sinner,

One of us is a martyr,

One of us is a murderer,

All of us are guilty,

All of us are lost.

"
Broadcasting
The first season of Lost began 10th August 2005 and was broadcast every Wednesday on Channel 4. The next episode was usually broadcast on sister station E4 straight after, except for finales, which were exclusively on Channel 4. The premiere of each of the first two seasons were also exclusively broadcast on Channel 4. The finale aired exclusively on Channel 4 as a double bill.
Online
In the buildup to the airing of season 2, Channel 4 made the entire first season available for rental-download through their website for 99p per episode. The video files were only available to UK users and expired 24 hours after download.
Season Two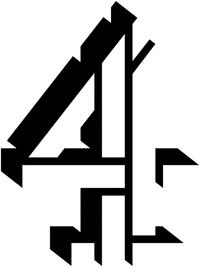 Promotion
The televised adverts for Season Two were met with anger from numerous fans; as they often involved what many defined as "major spoilers" regarding upcoming episodes. This happened on a number of occasions. During commercials on 6th June 2006 episode "The 23rd Psalm" Channel 4 aired a promotional trailer for Lost, showing the elusive scene of Eko staring down the "Monster". While it can be argued that fans did not know what these things were, they were still spoiling future episodes, outcomes, and character deaths. Channel 4 actually received registered complaints from these spoiler based adverts, and in response started to show less trailers for the show. However, as the finale drew near, another trailer was released again showing potential spoilers (such as revealing that Desmond was in the episode, and the system failure sounds).
Broadcasting
Due to the overwhelming success of Season One, Channel 4 decided to air Season Two earlier than planned; just a few months after Season One ended. It moved from Wednesdays to Tuesdays, and the following episode was aired straight after on E4.
Channel 4 publicly released that they would follow up with Season 2 sooner than planned in their advertising, which stated:
| | | |
| --- | --- | --- |
| " | This is a Public Service Announcement. On behalf of Channel 4, we can only apologize for the outcome of Lost series one. If there was a metaphor for how we all felt at the end... this shaft pretty much sums it up. Why? Well, because we like you we've put the hours in. We want answers too. Who are the Others? Will Jack and Kate ever get it on? Does anybody care about the polar bears? Well enough is enough! We've brought series two forward because, like you, we want to know what the hell is going on! (Begin flashes of the Hatch Clock, the attack of the tailies on the raft survivors, Desmond holding Locke at gun point, the "Quarantine" message, Kate going down the shaft, and the super bright light flicking on.) | " |
Season Three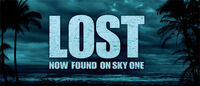 In October 2006, Satellite Broadcaster Sky announced that they had acquired the rights to show seasons three and four of Lost, for reportedly £700,000 per episode (nearly $1,500,000). They also announced they would start showing episodes starting in November, and would be airing episodes within a week of them being shown on ABC in the United States once the second block of episodes began to air.
In February 2007, it was announced that Virgin Media (the UK cable provider) would no longer be providing Sky1 as part of its suite of channels, leaving Sky as the only option for watching LOST in the UK [1].
Lost is also available for purchase on Sky's PC video on demand service, Sky Player, and is also occasionally available on Sky Anytime TV, Sky's psuedo video on demand service for Sky+ version 3, and Sky+ HD customers.[2].
Promotion
Sky promoted Lost with television commercials as well as billboard campaigns, which simply state "FOUND on Sky One" over the misty background associated with the American advertising campaign. Newer billboards stated "LOST NOW FOUND" with a tag line "This November on Sky One". The new campaign being the largest advertising campaign since the original Season One David LaChapelle promotions. Trailers do not air frequently however, and are rarely trailers for the next episode after an airing. Sky mostly airs 'Previously On Lost' trailers throughout the week across it's wide range of channels, keeping viewers up to date.
Season Four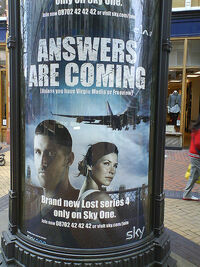 Lost Season 4 began airing on Sky1 on Sunday, February 3, 2008 at 9pm. The tagline for the station's trailers is "Some will be Saved".
To accompany the return Sky launched an "Ultimate Viewing Experience" for Lost, which included the first two episodes of Season 4 being available on Sky Anytime for HD customers on the box, and on the Sky Anytime Mobile and Sky Player for PC for all customers, the day before it was aired on SkyOne.
Promotion
As part of the promotion of Season 4 of Lost. Sky launched Wehavetogoback.com which is an 8 minute 15 second video explaining Lost so far.
Season Five
Season Five began broadcasting in the UK on the 25th of January, 2009. As with season 4, Sky1 broadcasted episodes 4 days after the US showing. Sky1 broadcasted the Season Finale on 17th May, 2009.
Prior to the new season, Sky1 ran the following promotional trails:
Clips from the season 4 finale are shown before clips from season 5 are shown with the following on screen captions: "Those who escaped... Will risk everything... To return... The end... is beginnning"
Hurley is seen sat in front of the numbers, on screen text has "The answers are in a number". The camera cuts to a close up of Hurley with "34" on screen, before a further caption of "34 episodes left". This is followed by short clips from the new season and the text "The end... is beginning".
The final trail broadcast in the week before the start of season 5 uses the same "34 episodes left" on screen text as the Hurley promo but instead depicts Locke playing chess against himself.

Due to the renegotiation of Sky Basic channels onto the Virgin Media platform, the only major TV provider in the UK not have access to Lost will be Freeview (the UK Digital Terrestrial provider).
Season Six
Season Six began airing in a new timeslot on Friday, February 5, 2010.[3] The new broadcasting day moved new episodes just 3 days behind the US airdate. Sky1 started airing promos for the new season in November 2009. Sky1 simulcast the series finale on May 24, 2010 at 5am GMT, live with America's West Coast broadcast.[4] The simulcast was watched by over 600,000 viewers in the UK, more than the average amount of viewers who tuned in for the regular Friday night broadcasts in Season 6. [5] Sky1 re-broadcast the finale on Tuesday, May 25, 2010 at 9pm.
Consequences of broadcasting move
The change from Channel 4 to Sky means an end to all Channel 4 involvement in Lost, including the blog, and podcast which accompanied the show. Sky have taken over the podcast from Channel 4, using the same production team to create it, including the main presenting talent Iain Lee. The podcast has since become an exclusive video show to the Sky1 website. Sky1 is a subscription channel, so a further fee is required to watch the show on Sky1.
Sky also broadcasts via mobile, on Vodafone's Live! service. Channel 4 showed short, 3-5 min clips of previous/upcoming episodes on their mobile channel, but nothing more.
iTunes
As of August 29, 2007 iTunes has made episodes of television programmes available from it's UK Store. This inludes all of the episodes of Lost from season 1 to season 4 and new season 5 episodes are uploaded the day after their UK airdate. Season 5 will also be in HD, for the first time for Lost on UK iTunes. The episodes are priced at £1.89 each or £2.49 each in HD. This is now exactly the same for Season 6. The episodes are priced at £1.89 each or £2.49 each in HD. There is also a series pass which is £24.99 for the whole season [each new episode downloaded once it's available] or £34.99 in HD.
Internet engagement
Lost: The Untold
Main article: Lost The Untold
Channel 4's website offered an interactive Adobe Flash game on its Lost site. It allowed one to "Delve into the subconscious" of Lost and contained unofficial clues. It was extremely deep and hard to complete. It was created by the design agency Hi-ReS!.
Podcast
Main article: Official UK Lost Podcast
Channel 4 started to produce half-hour long weekly podcasts starring comedian and TV presenter Iain Lee and a few other fans of the series, and hosted them at Channel4Radio.com. Sky picked up the podcast and it's still has Iain Lee as its host but has been renamed "The Lost Initiative." The feed address is


http://skyscape.sky.com/skynewsradio/PODCAST/lostonskyone.xml
The podcasts usually start with a brief synopsis (read by Iain Lee) of the episode that has just aired. He and a number of other people will then discuss the episode, and then read, discuss, and rate some submitted fan theories.
Video podcast
Sky have also launched a iPod compatible video podcast, named Lost Moments. The video podcast primarily broadcasts the sneak previews of the same name that have been airing in the advert breaks of Day Break and Grey's Anatomy in the USA during the Season 3 hiatus. The feed address is


http://skyscape.sky.com/skynewsradio/PODCAST/lostmoments.xml
British cast members
Cast members that were born and/or raised in the UK include:
See also
External links