For remaining unanswered questions from the Lost Experience, see here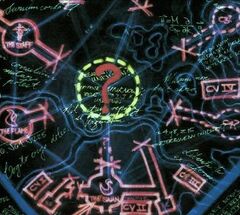 This is a list of all the unanswered questions that have been asked in Lost, both explicitly and implicitly. Once a question has been officially answered on the TV show or by some other source, it will be removed from the list.
This list is organized by episode, in the order that each mystery is first introduced. For a list of unanswered questions by topic, see Unanswered questions.
Note that these questions should be directly tied to the narrative of the show, and specific mythological unanswered mysteries.
Season 1
Season 2
Season 3
Episode
Questions
Theories

303
"Further Instructions"

---

---

---


305
"The Cost of Living"

---

---


306
"I Do"

Who is Jacob?
What is Jacob's list? Who is on it?

---


308
"Flashes Before Your Eyes"

Who is Ms. Hawking and how does she know the future?
Why does she describe pushing the button as the "only great thing" Desmond will ever do?

---

---


311
"Enter 77"

What is the significance of the Russian letter in Mikhail's typewriter?
Why were the override functions in The Flame hidden behind a virtual game of chess?
Who were the previous DHARMA employees of this station?

---


312
"Par Avion"

Will anyone find the note Claire attached to the sea gull?


315
"Left Behind"

316
"One of Us"

Why do pregnant women die on the island?
How is Mikhail able to access all the information about Flight 815 passengers?

---

---


317
"Catch-22"

---

---


318
"D.O.C."

---

---


319
"The Brig"

What caused the instruments on Naomi's helicopter to malfunction?


320
"The Man Behind the Curtain"

The Past

What was the shaking during the incursion by the hostiles when Ben was in class?
Do the Hostiles have ties to the outside world prior to the purge?
What was the manifestation of Ben's dead mother?
Who initiated the Purge?
What happened to Annie?
How did Ben become the leader of the Others/hostiles?
Why does Richard appear not to age; how old is he?
Why is Richard subordinate to Ben?

The Island

---

---

---

---

---


322
"Through the Looking Glass, Part 1"

The Island

The Future

Why is Jack contemplating suicide?

---

---
Season 4
Episode
Questions

401
"The Beginning of the End"

The Future

Who is Matthew Abaddon?
Why does Abaddon offer to move Hugo to a different institute?
What is the motivation behind his offer to move Hugo to a different institute?
How is Lewis able to see Charlie?

---


402
"Confirmed Dead"

The Past

Why was Daniel upset about the discovery of Flight 815?
What is the nature of Miles' abilities?
How did the polar bear get to Tunisia?
Did Charlotte know what she was looking for when she was digging around the polar bear's skeleton?
Why did Seth Norris replace Frank as Flight 815's pilot?
Why did Naomi believe there would be survivors of Flight 815 on the Island?
Why does Abaddon insist that there are no survivors?
Why were Daniel, Miles, Charlotte, Frank and Naomi selected for the operation?

The Island

---

---

---

---

---

---


403
"The Economist"

The Island

The Future

Who are the people on Ben's list?
Whom is Sayid protecting and what is he protecting them from?

---

---

---


404
"Eggtown"

The Island

---

---


405
"The Constant"

The Past

The Freighter

---


406
"The Other Woman"

The Past

What was the cause of Goodwin's 'chemical burn' injury?
Why did Goodwin lie about his injury?

The Island

How does Harper suddenly appear and disappear into the jungle?
What is Charles Widmore's true interest in the Island?

How did he find out about the island?
What does Penny know about his research?

Who is the man being beaten by Widmore?
How is Harper in contact with Ben?
How does Charlotte know the history of the Island and the Purge?
Who made Daniel's map?

---

---

---


407
"Ji Yeon"

The Freighter

Why does Ray have a wound on his cheek?
Why were Sayid and Desmond warned not to trust the captain?
Why does Gault believe Ben had anything to do with staging of the fake Flight 815 crash?

The Future

Why is Hurley so glad to hear no one else is coming?

---


408
"Meet Kevin Johnson"

The Past

How was the Island "not allowing" Michael to commit suicide?
Who placed the fake 815 wreckage?
Who are the "innocent people" among the freighter's crew that Ben intends to spare?

The Island

Why is the Temple only for the Others?

---


409
"The Shape of Things to Come"

The Future

Why is Widmore sure Ben can't find Penny?
What are the Rules that have changed?
Why does Widmore say it's his island?
What is the relationship between Ben and Widmore?

The Island

What did Ben do in his secret room?
Who wrote the hieroglyphics on the wall in Ben's hidden bunker, and what do they mean?
How did Ben summon the smoke monster from the hidden room?

---

---


410
"Something Nice Back Home"

The Future

What is meant by, "You're not supposed to raise him, Jack"?
Why did Jack change his mind about Aaron?

The Island

Why does Christian appear to Claire?

---

---

---


411
"Cabin Fever"

The Past

The Island

---

---

---

---

---

---

---


412
"There's No Place Like Home, Part 1"

The Island

Why are the Others wearing their rustic garb?

The Future

---


413
"There's No Place Like Home, Part 2"

The Island

Where and/or when did the Island go?
Why does Miles decide to stay on the Island?
What is Charlotte's previous experience with the Island?
What is the nature of the frozen wheel?
Why does the Orchid tape begin to rewind itself?
Why can the person who "moves the Island" never return?
What has happened to the people who managed to abandon the Kahana, if any, before it blew up?

The Future

Why do the Oceanic Six, as well as Locke, have to return to the Island?

Locke

How does John Locke die?
How does Locke get to the mainland?
Is Locke able to walk after leaving the Island?
Why does Locke use the alias Jeremy Bentham?
Why must Locke's body be returned to the Island?
If Locke is Bentham, who is his "son" referenced in the obituary Jack had?

---

---

---

---

---
Season 5
Episode
Questions

501
"Because You Left"

What is the nature of the Island's time shifting phenomenon?
Where did the Island go?
Why are Richard Alpert and the Others not affected by the time shifts?

Why is Juliet, a former member of the Others, affected?

Is Faraday correct in saying that changing the past is impossible?

Why does Daniel think the rules of time do not apply to Desmond?

Is Claire moving through time like the rest of the Oceanic survivors?
Who built the frozen wheel and how did it end up buried under a wall of rocks?
How did Faraday get back in time and work as an undercover DHARMA worker when the orchid was being constructed?
Why does Richard tell Locke that in order for the Oceanic 6 to return to the island he has to die?
Why is Richards compass important enough to him that he gave it to Locke?
Who is Daniel's mother and why does Desmond need to find her?
Who hired Dan Norton?
Was Pierre Chang's baby born on the island?
Who are the men that are trying to capture Sayid and/or Hurley?
Does Ethan remember Locke from their encounter by the smuggler's plane?

Did he tell anyone else that he saw Locke?

Why doesn't Desmond remember Daniel from their 1996 meeting?
Who are the people trying to kill/capture Sayid?

Why was one armed with a proper gun and the other a tranquilliser gun?

Why are the people living in the barracks all dressed in civilian clothes rather than DHARMA uniforms?

---

---


502
"The Lie"

Who is Jill from the Butcher Shop?
Ben asked Jill if Gabriel and Jeffrey had checked in yet. Who are they?
What is Ben's relationship with Ms. Hawking?
Who are the soldiers that attack Sawyer and Juliet?

Why do they claim it is "their" Island?

Who are the assailants that attacked the beach camp with flaming arrows?
What does Ms. Hawking expect to happen in 70 hours?
What did Ben put in his bag?
How does Ms. Hawking know when the Oceanic Six must/can return to the Island?
Why does Ben avoid Jack's question about Locke being dead and needing protection?

---

---
See also
Viewer interest information