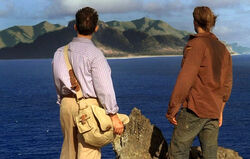 Lost featured frequent twists - unexpected narrative shifts. Some added new information about known elements. Some wrapped up storylines in surprising ways. Others diverted the plot's long-term direction.
Contextual twists
Several scenes in Lost mislead viewers about where or when they're set until a later revelation. Episode cold openings frequently include this twist.
A close-up on Locke shows him receiving a phone call about some secret military plans. Then a wider shot reveals that he is just an office employee at a cubicle, and he was playing a game. ("

Walkabout

")
A close-up on Jack and Michael shows them tensely debating their next move, suggesting a matter of great significance. The next shot reveals that they are golfing and discussing which club to use. ("

Solitary

")
A friend of Jack's is suited for a tuxedo, and their conversation suggests we're witnessing an incidental wedding Jack attended. The tailor then calls Jack the groom, revealing that we're about to witness Jack's own wedding. ("

Do No Harm

")
A man goes about his morning routine, preparing breakfast, exercising and working on a computer. The fully equipped kitchen, laundry machines and gun vault suggest this takes place off-island, in civilization. Old-fashioned props, including the record player and old computer, suggest we're seeing a flashback. The sight of Jack and Locke places this in the Hatch, on the island and in the present day, following immediately from the previous season's cliffhanger. ("

Man of Science, Man of Faith

")
Hurley begins a scene in the Swan pantry, a location he visited and to which he'd presumably return. He begins eating the food there, but the scene becomes increasingly bizarre, and it turns out to be a dream. ("

Everybody Hates Hugo

")
An episode begins with a young version of a character, suggesting a childhood flashback like in "

White Rabbit

" or "

The 23rd Psalm

". As with Hurley's dream, strange events unfold, and Charlie turns out to be dreaming. ("

Fire + Water

")
Eko chops wood for his church. Ana, who died in the previous episode, appears, and reveals that for the third episode this season, the cold opening turned out to be a dream. Shortly after, Eko appears to dream again. This turns out, however, to be Locke's dream. ("

?

")
A woman goes about her morning routine, playing music, baking and entertaining guests. We see several houses populated with people, suggesting this scene takes place in the suburbs, off-island. The arrival of a plane, Ben Linus and a final pan out reveal the truth: this "town" exists on the island, and the scene occurs right before the crash. ("

A Tale of Two Cities

")
Juliet sits on the beach, presumably on the island. She walks down a poorly-lit corridor, passing Ethan. She speaks with her pregnant sister, and injects her with a possible vaccine, much as Ethan did to Claire in the Staff station. But she then pulls back a curtain, revealing that they are not on the island -- the scene takes place in Miami. ("

Not in Portland

")
Locke seeks "disability payments" from a case worker, suggesting the scene takes place after his accident. The case worker then calls the disability depression, and Locke stands up, showing that the scene takes place before the as-yet unseen accident. ("

The Man from Tallahassee

")
Nikki's first flashback appears to depict her life as a stripper who is investigating a criminal plot. She even gets shot and apparently dies. A director then yells "cut!", revealing that this is a TV show. ("

Exposé

")
Survivors trek through the jungle, a typical island scene, suggesting normal real-time action. Charlie dies. The footage then rewinds, revealing the scene as one of Desmond's flashes. ("

Catch-22

")
A woman in the jungle goes into labor. We've previously seen Claire give birth, and we know issues exist regarding pregnancy on the island. But she and her husband soon walk to a road, and a truck drives by. They're off the island. ("

The Man Behind the Curtain

")
Scenes showing Jack off-island suggest a flashback, like all previous off-island action. Kate's arrival, and their conversation, reveal this takes place after the current action, making this the series's first flash-forward. ("

Through the Looking Glass, Part 2

")
A season begins on a pile of fruit against a possible island backdrop. All previous seasons have begun on the island. But then Hurley's Camaro crashes through the fruit, and the backdrop turns out to be just that -- a painted backdrop. The scene takes place in Los Angeles. ("

The Beginning of the End

")
An episode begins with a shot of Locke's eye opening, and follows him as he prepares breakfast and speaks with Ben, suggesting that the episode will feature a flashback or flash-forward for him. However, the episode quickly shifts perspective to the true flash-forward character, Kate.
Juliet sees a therapist about her new-found celebrity. Previous episodes had revealed the Oceanic 6 as celebrities with issues, suggesting this another flash forward taking place off the island. Tom Friendly's appearance reveals that it's a flashback from on the island. ("

The Other Woman

")
Off-island action alternates between scenes of Sun in giving birth in 2005 and Jin rushing to reach the hospital's maternity ward. The episode's conclusion reveals the scenes do not occur concurrently. Sun's are flash forwards, but Jin's are the traditional pre-crash flashbacks. ("

Ji Yeon

")
Locke, Hurley and Sawyer debate a course of action, with Hurley insisting that Locke seeks to divide the other two men. The next shot reveals that they are not discussing Locke's leadership, their rivalries or the fate of the island. They are playing a board game. ("

The Shape of Things to Come

")
A season premiere again begins in an ambiguous time and place. We this time see not just a house but an entire family, including a baby, which we've never before seen on the island. The scene turns out to take place not just on the island but decades in the past, during the time of the DHARMA Initiative. It would later show that Daniel Faraday is also there, despite it being 1977. ("

Because You Left

")
Desmond tells his son about a "very special island" to which he is returning. He appears to be talking about the Island, but it turns out that he is referring to Great Britain. ("

Jughead

")
In the show's largest setting twist, the flash sideways appear to portray an universe running parallel to the main timeline. The finale reveals that it contains a shared world the characters imagine after they die. ("

LA X, Part 1

")  ("

The End

")
Characterization twists
New information sometimes reveals unexpected elements from a character's backstory.
Peripeteia
Peripeteia is a sudden or unexpected reversal of the fate of a character. Many characters' roles reverse as the series progresses.
Twist endings
Some episodes end with a twist that wraps up their story without necessarily affecting the show's larger plot. The show used these twists most often early on in self-contained flashback narratives.
Plot twists
Plot twists divert the course of a plot in a new, unexpected direction.
References