Trust is a recurring and tenuous issue for many of the people involved with the Island.
Occurrences
Season 1
"

JACK: So you trust him?

CHARLIE: Trust him? No offense, mate, but if there's one person on this island I would put my absolute faith in to save us all it would be John Locke.

"
Season 2
"

SAWYER: Help you what?

LOCKE: Move the guns.

SAWYER: Move them where? [Locke doesn't respond.] Fine, you don't want to trust me -- lots of luck.

"
Season 3
"

BEN: We had such a wonderful plan to break you, Jack.

JACK: Break me?

BEN: Wear you down till you were convinced we weren't your enemies. Get you to trust us.

"
Season 4
"

MILES: Locke's the guy who killed Naomi. Give me back my gun, Shepherd.

JACK: You want your gun back, I want answers.

JACK: You don't trust me, I don't trust you.

"
Season 5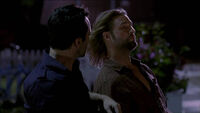 Sawyer trying to gain Richard's trust. ("

LaFleur

")
"

RICHARD: Your people know that you're telling me this?

SAWYER: They ain't my people, Hoss. So if you got some kind of a truce with them, it ain't been broken.

RICHARD: If you're not a member of the DHARMA Initiative, then what are you?

"
Season 6
Dogen and Sayid both say that Sayid will trust the pill Dogen created only if Jack asks him to do so; Jack doesn't ask Sayid to do so because he doesn't trust Dogen without knowing exactly what's in the pill. ("

What Kate Does

")
Jack wonders why he should trust Dogen, while he doesn't trust himself. ("

What Kate Does

")
| | | |
| --- | --- | --- |
| " | I don't trust myself. How am I supposed to trust you? | " |
Community content is available under
CC BY-NC-ND
unless otherwise noted.