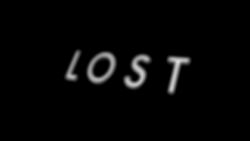 The title sequence of Lost shows the name of the series out of focus.
In television and film, a title sequence is a visual segment that usually shows the title of the work, as well as presenting key cast and crew. Television shows typically include the same title sequence near the beginning of every episode. The title sequence in Lost is a relatively short piece, which shows the title of the series in motion. Cast and crew members are shown later, as part of the episode's opening credits.
The Lost title sequence was established at the very beginning of the first episode, "Pilot, Part 1". In each subsequent episode, the title is after the teaser, which is the sequence of opening scenes (which are usually preceded by the "Previously on Lost" recap sequence), before the first commercial break.
The title sequence in Lost was created by J.J. Abrams, co-creator of the show, and co-writer and director of the pilot episode. Abrams made the sequence on his laptop, during the sound mixing of the episode. (Pilot, Part 1 audio commentary) He also composed the discordant sound that accompanies the graphic.
Description
The Lost title sequence is about 15 seconds long. An ominous, discordant sound can be heard, and the word "LOST" appears in 3D, in white color, against a black background. The word is distant and somewhat out of focus, and it rotates and floats towards the camera. At a certain point, the text comes into focus for a short time, but it comes closer, losing focus again. The title passes under the camera, between the letters "O" and "S". Abrupt cut to the next scene follows.
"Pilot" script
The script for "Pilot, Part 1" begins with the description of the title sequence.[1] It is somewhat different from the finished graphic, in minor details.
OVER BLACKNESS, MUSIC. OMINOUS AND FOREBODING. THEN, OUT OF
THE DARKNESS, A SINGLE WORD. FLOATING IN SPACE, OUT OF
FOCUS, TOWARD CAMERA. AS IT APPROACHES IT COMES INTO FOCUS,
BUT IT'S SHARP ONLY FOR A BRIEF MOMENT:

                         LOST
AS IT NEARS US IT AGAIN LOSES FOCUS -- AND AS WE MOVE THROUGH
THE "O" OUR MUSIC CRESCENDOS, THEN STOPS ABRUPTLY AS WE CUT
[...]

Star Trek promotion
In the American broadcast of "The Variable", the Lost title sequence was suddenly placed among stars, with a Starship Enterprise soaring through the "O" in Lost as part of a promotion for J.J. Abrams' new film Star Trek. The title was not included on the DVD release.
See also
References
External links
Community content is available under
CC BY-NC-ND
unless otherwise noted.