The Walt Disney Company (most commonly known as Disney) (NYSE: DIS) is one of the largest media and entertainment corporations in the world. Disney was founded in 1923 and today owns several entities associated with Lost: ABC and ABC Studios (formerly Touchstone Television), both of which are part of the Disney-ABC Television Group.
Disney Publishing Worldwide publications include those published by Hyperion Publishing (which publishes Lost's Bad Twin).
Currently (as of April 2009), Robert Iger serves as president and CEO.
Lost's LA office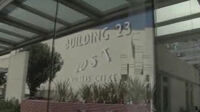 The Los Angeles office of Lost's production company Grass Skirt Productions is located at ABC at Disney Studios at:
500 S. Buena Vista St., Bldg 22
Burbank, CA 91521
These offices are the home base for most of the executive producers of Lost, except Jack Bender and Jean Higgins, who are based in the Hawaii offices of Grass Skirt Productions. It is also the home base for the writers and post-production crew such as the editors.
ABC Commissary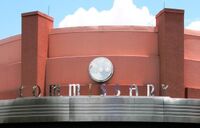 The Walt Disney World Resort in Lake Buena Vista, Bay Lake and Kissimmee, Florida is the home of four theme parks, one of which is Disney's Hollywood Studios (formerly "Disney-MGM Studios"). This theme park is based around what makes Hollywood great: the glamour, the glitter, the magic. Magic is after all what Disney is known for; it was a perfect marriage. The park covers television as well.
The Walt Disney Company has no fundamental relationship with MGM Studios other than licensing their name and content for these theme parks. And since the agreement to use the MGM name on the park ran out several years ago, starting on January 1, 2008 the park's name is officially "Disney's Hollywood Studios". Branding for this change began in late 2007 - Disney's own website reflected the name change going into the holiday season.
Many interesting locales to eat at are recreated in the Studios, from Toy Story's Pizza Planet, to the famous Brown Derby, to a recreation of the original ABC Commissary found in New York City. This is a great place to grab lunch or a lite dinner. The menu changes from time to time, and currently has a middle eastern flair.
One reason a lot of people visit the restaurant is to see television show memorabilia that is rotated in and out on a somewhat regular basis from the most popular ABC television shows. For example, during Super Soap Weekend, many props from all your favorite soap operas will be found occupying about half the restaurant (and they'll be available to purchase as well).
Since the initial rise in popularity of Lost, a few recognizable items have been on display behind glass cases as you enter the restaurant. If you visit, make sure you check both sides of the restaurant as there is a glass case on either side, and they contain different items. There is no telling how long these Lost items will remain on display.
As of early 2009, most of the Lost props have been replaced by props from other ABC shows. However, two DHARMA Initiative jumpsuits have been brought in, one of which reads "Howard, Cinematographer." Both jumpsuits have the standard, solid black DHARMA logo.
Inside the park, the ABC Commissary can be found on Commissary Lane, which can be found to the left of the giant Sorcerer Mickey hat between the Great Movie Ride and a set of restrooms.
External links
News