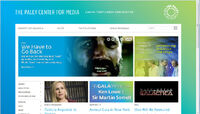 The Paley Center for Media is an organization dedicated to discussion of various cultural phenomena of mass media. It was formerly known as The Museum of Television and Radio (MT&R) and The Museum of Broadcasting.
The Paley Center has been host to four Lost-related events:
March 12, 2005: Lost event at "The Paley Festival", also known as "Lost at PaleyFest 2005". [1]
"

"Saturday, March 12 at 7:00 p.m. Steeped in an exhilarating blend of familiar genre tropes and brain-twisting plots, and stamped with the unmistakable verve of cocreator J.J. Abrams, this ingenious and incredibly entertaining nod to television's past (The Twilight Zone) and present (Survivor) follows forty-odd strandees as they struggle for survival on a mysterious isle rife with polar bears, Lord of the Flies-style intrigue, and one extremely inhospitable monster. In Person: J.J. Abrams (Creator/Executive Producer/Writer/ Director), Naveen Andrews ("Sayid"), Bryan Burk (Executive Producer), Carlton Cuse (Showrunner), Emilie de Ravin ("Claire"), Matthew Fox ("Jack"), Jorge Garcia ("Hurley"), Maggie Grace ("Shannon"), Josh Holloway ("Sawyer"), Malcolm David Kelley ("Walt"), Daniel Dae Kim ("Jin"), Yunjin Kim ("Sun"), Evangeline Lilly ("Kate"), Damon Lindelof (Cocreator/Executive Producer), Dominic Monaghan ("Charlie"), Terry O'Quinn ("Locke"), Harold Perrineau ("Michael"), Ian Somerhalder ("Boone")."

"

—Website calendar description for The Paley Festival's 2005 Lost event
May 19, 2008: In the Web Media series: "Click Critics: The Power of Fan Websites" (6:00–7:30pm) - In person: Kevin Croy (Lostpedia), Remona Outar (Ugly Is In), ProgGrrl (Galactica Sitrep), Joe Reid (Television Without Pity), Damon Schmidt (Whedonesque), Jennie Tan (OfficeTally) [2] [3]
January 19, 2009: "The Paley Center Lost Saturday" [4] had two parts. The first part of the event, from 2–4 pm, was a watching of "

Walkabout

" and "

Through the Looking Glass, Part 1

", the two episodes chosen as favorites in the center's online poll [5]. The second part, from 4–6pm, was a 30 minute preview of "

Because You Left

", followed by a discussion with a panel of experts consisting of: Daniel Manu, site director of Television Without Pity; James Poniewozik, television critic for TIME; and Christopher Rosen, blogger for The New York Observer; moderated by Josh Wolk, senior editor of Entertainment Weekly. Concurrently in 2009, the Paley Center also hosted free Lost marathon screenings between January 8 and February 1, 2009 at its Steven Spielberg Gallery. The marathon consisted of a continuous screening of episodes from seasons 1 through 4, accompanied by art from Entertainment Weekly, behind-the-scenes interviews from Jeff Jensen, and video from their past event, "Lost at PaleyFest 2005."
February 27, 2010: Lost event at PaleyFest 2010. [6] In person: Damon Lindelof, Carlton Cuse, Edward Kitsis, Adam Horowitz, Elizabeth Sarnoff, Jack Bender, Terry O'Quinn, Michael Emerson, Nestor Carbonell, and Zuleikha Robinson. The panel was hosted by comedian Paul Scheer.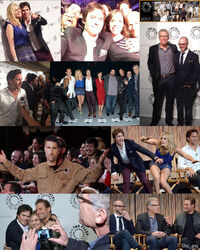 March 16, 2014: Lost 10 year anniversary reunion (7:00 pm). [7] In person: Damon Lindelof, Carlton Cuse, Josh Holloway, Daniel Dae Kim, Yunjin Kim, Jorge Garcia, Emilie de Ravin, Ian Somerhalder, Nestor Carbonell, Henry Ian Cusick, Malcolm David Kelley, Maggie Grace and more on the LOST PaleyFest Panel at the Dolby Theater. Jesse Heiman was also attending. The panel was again hosted by Paul Scheer. The event was streamed through media.paleycenter.org. Several videos were as usual uploaded to YouTube the same day.
Paley Center seminar videos are available at the iTunes Music StoreLost-related videos from the Paley Center account at YouTube:
, as well as
2005 Paleyfest
Videos
2010: Lost PaleyFest 2010 Panel
Videos
2014: Lost 10 Year Anniversary Reunion
Videos
Lost Reunion - Damon Lindelof, Jorge Garcia, Josh Holloway Look Back at Lost [36]
The 2005, 2010, and 2014 PaleyFest panels can be purhcases on DVD or Digital Download from Amazon. [37]
External links