The Maxwell Group is a company to which reference is made in the second Lost alternate reality game Find 815. It is a division of Widmore Industries. (Find 815 clues/January 14)
Damon Lindelof and Carlton Cuse have stated on record that Find 815 is not in canon, the implication being that The Maxwell Group is only relevant to the alternate reality of the game and not to the show itself. [1]

The-Maxwell-Group.com Website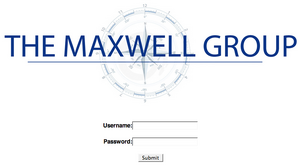 The URL for The-Maxwell-Group.com was discovered in an email to Sam Thomas from a unknown sender. (Find 815 clues/December 31) The page featured username and password login boxes placed over a picture of a horizontally inverted compass. On the compass, east is in the position for west and west is in the position for east. Upon any login attempt, the following text was displayed until January 31, 2008:
"

Authentication Server Temporarily Down
The server is currently being serviced. It is expected to be back in service by
02/01/2008 00:08:15 UTC

"
Following the Season 4 premiere broadcast, the website updated to include a media release about their discovery of Oceanic Flight 815 in the Sunda Trench. A link is provided to a radio interview in which Oscar Talbot speaks about the discovery. (Read transcript) (Find 815 clues/January 31)
"

Media Release:
Oceanic Flight 815 Discovery
Expedition leader Oscar Talbot speaks about the remarkable discovery by the Maxwell Group of Oceanic Flight 815 in the Sunda Trench.
Click here to listen.

"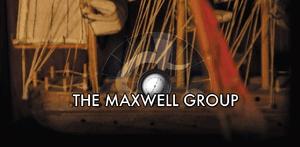 After having been taken off-line for some hours, the website had changed as of c. 11:00 UTC on February 2, 2008 to include a new logo.
The site also now returns a message with regard to invalid passwords on login attempts.

Salvage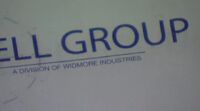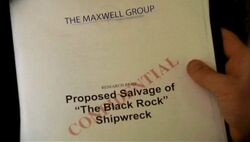 The Maxwell Group is funding a project to salvage the Black Rock shipwreck. Project supervisor on the Christiane I is Oscar Talbot. (Find 815 clues/January 14)
James Maxwell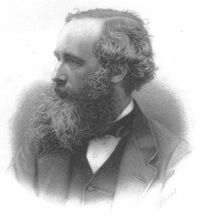 On Sam's desktop, a website dealing with the Sunda Trench originally also pictured a bearded man that was soon after removed. (Find 815 clues/January 2) Gamers discovered this was a picture of James Clerk Maxwell.
| | | |
| --- | --- | --- |
| " | James Clerk Maxwell (13 June 1831 – 5 November 1879) was a Scottish mathematician and theoretical physicist. His most significant achievement was aggregating a set of equations in electricity, magnetism and inductance—Maxwell's equations—including an important modification of Ampère's Circuital Law. It was the most unified model of electromagnetism yet. It is famous for introducing to the physics community a detailed model of light as an electromagnetic phenomenon, building upon the earlier hypothesis advanced by Faraday (Faraday Effect). | " |
(James Clerk Maxwell at Wikipedia)
Sam later researched this name further via answermyquestions.org. (Find 815 clues/January 17). A day later the same picture appeared gain, scrambled in Sam's Video diary. (Find 815 clues/January 18)
Trivia
In the background compass logo, under the number 2, there should be 60°, but there is 75°.
The inner compass is reversed. East and west are switched, as are all of the ordinal points and other principal points (SE, SW, NNE, etc).

On astronomical maps, east and west are reversed, since one's viewing perspective is mirrored, i.e. looking up instead of down.

There is a dim image of something like a rolled snake or spiral in the middle of the compass. (It was later discovered that this is a watermark from the iStockphoto site the compass image came from)
The entire The Maxwell Group website was located at http://www.find815.com/TMG/. However, that link now returns "File not found."
The external link, http://www.the-maxwell-Group.com, also now returns "File not found."
See also