Return to the main clue page for The Lost Experience.
Speaker
Speaker received an image in an email attachment (probably from Ironman given its filename):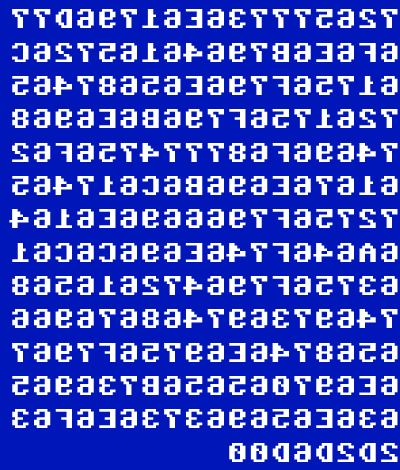 Swinging the image around makes the following (assuming it is literally a mirrored image):
726577736E61796D77
6F6E6B79646165726C
61756F796E65687465
7261756F796B6E6968
74696F687774756F62
61676E696B6C617465
72756F7966696E6164
6A646F746E696C6C61
63756F796472616568
746973697468676966
6568746E69756F7967
6E697065656B736965
636E656963736E6F63
2D2D6D00

Running this through a hexadecimal to ASCII converter, then reversing the text, yields the message "M - Conscience is keeping you in the fight, is it? Heard you call into DJ Dan. If you're talking about who I think you are, then you already know my answer.".
The original DJ Dan message was from Malik to Rachel Blake, suggesting that he could set up a meeting. It was theorised that this would be Alvar Hanso. Thus, it seems Rachel may soon be meeting with Hanso himself. As has been hinted by TPTB, this could be the end-game.
Community content is available under
CC BY-NC-ND
unless otherwise noted.