ABC Medianet
Are we not posting the ABC press releases anymore? --Emissary23 22:12, February 3, 2010 (UTC)
6x02? Oops.
When I type "6x02" into the search box, it brings me to this episode, yet this is actually 6x03. Marc604 22:00, February 7, 2010 (UTC)
This is 6x03
This is 6x03 episode. There is a lot of confusion.. LA X are 6x01 and 6x02. At this moment the episode list is not correct in the season 6 index. —The preceding unsigned comment was added by Shitoby (talk • contribs) 2010-02-07T19:51:48. This will have to be fixed soon, since it will cause confusing for the rest of the season numbering. —The preceding unsigned comment was added by Buffyfan123 (talk • contribs) 2010-02-10T00:55:29. Please take a moment to rank 6x03 over at Lost Rankings: http://lostrankings.dco1.com/season6/what-kate-does.html --Turniphead Danny 08:55, February 10, 2010 (UTC)
Centric Status
This is definitely a Kate centric episode --DesmondFaraday 03:33, February 10, 2010 (UTC)
Yep it is Kate centric for sure. Shes the first tradional flash-sideways non-multi centric. Buffyfan123 03:39, February 10, 2010 (UTC)
Yeah, whoever thinks Claire gets centricity in an episode called "What Kate Does" should probably stay away from the Edit button.--HaloOfTheSun 03:40, February 10, 2010 (UTC)

Claire in this episode is the same as...well, Kate in Something Nice Back Home, for instance. So yeah, just Kate centric. --Golden Monkey 07:32, February 10, 2010 (UTC)
Kate's Flash Sideways
Do we know who cut her handcuffs from anywhere else? —The preceding unsigned comment was added by Hickorysmoke21 (talk • contribs) 2010-02-09T23:22:42.
I don't know, but why isn't he listed in cast...? --Golden Monkey 06:42, February 10, 2010 (UTC)

His name is Jeff Kober. Mythic Dawn Agent 07:53, February 10, 2010 (UTC)

Not being credited is probably significant, given that they credited the taxi driver, the two nurses, and the cop. Recall that Dr. Marvin Candle/Pierre Change was not credited in his initial appearance in Orientation. I suspect we'll see Mr. Kober again. Sn0re 09:22, February 10, 2010 (UTC)

But was François Chau (Pierre Chang) not credited because his character was special? According to this interview, no, it was because of a conflict between the producers and his agents over what his credit should be. Granted, later it evolved into a mysteriousness thing, but in this case I doubt it. --Cornprone 14:03, February 10, 2010 (UTC)
I've added "differences in Kate's dialogue" to the "Bloopers and Continuity Errors"/ section, but I'm not convinced that this is a real blooper (another possible alternate timeline)? I'm a new poster here, so I welcome your comments.--Dwiggy444 16:18, February 10, 2010 (UTC) --Dwiggy444
No way is it another timeline to the one we saw in "LA X, Part 1". See "This Place Is Death" and "He's Our You" where Sayid's lines are changed slightly from the marina scene. Then "Whatever Happened, Happened" where Kate's lines are slightly different from that scene. And again, "Whatever Happened, Happened" and "Dead Is Dead" where Ben's waking up scene is re-shot, with Locke speaking new lines and using a different tone of voice. It seems shooting a scene from a previous episode with new angles and editing the lines is a common thing in Lost recently.--Baker1000 20:17, February 10, 2010 (UTC)
Unanswered questions
"What caused Claire to become like Rousseau in the original timeline?"
Should this really be included? I mean, isn't it obvious that living alone on an island will drive you crazy? MessyM 10:53, February 10, 2010 (UTC)

Exactly. I don't even think, she was necessarily that "alone" as she is "claimed" (most probably by the MIB as danielle's crew was) and since we last saw her with the mib-christian in cabin fever --Wurmor 13:43, February 10, 2010 (UTC)

At this point it isn't even clear if Dogan is even right about what is going on. My thought is that he isn't, and what is happeneing is unlike anything that has happened before.--DB 14:09, February 10, 2010 (UTC)
"Why all the secrecy regarding Rosseau and Ajira Airways Flight 316?"
I could be wrong, but I thought Aldo kept the information from Kate about Rosseau and Ajira because he was still bitter about the incident when Kate, Sawyer and Alex went to rescue Karl from Room 23 and Kate knocked out Aldo. --Lostbrotha 14:11, February 10, 2010 (UTC)
"Is there a relation between Horace Goodspeed and Ethan Goodspeed?"
Isn't Horace Ethan's father? --Lostbrotha 14:15, February 10, 2010 (UTC)
"What is in the box that Sawyer kept in his and Juliet's former home? "
Wasn't that obviously the engagement ring? WeirdDNA 18:30, February 10, 2010 (UTC)
Yeah I thought it was fairly obvious as well, unless there was more in the box?--Lostbrotha 19:24, February 10, 2010 (UTC)
"Why is Ethan off the island in 2004, when he was on the island when Oceanic 815 crashed? "
Should be obvious if you watched the Premiere. WeirdDNA 18:30, February 10, 2010 (UTC)
Ethan alive in flash-sideways? --> Miles still evacuated in original timeline?
So I got a question about how Ethan can be alive and well in the new existing timeline. It seems that he was evacuated with the rest of the people while the happenings of the incident, including Miles as a baby. - But in the original timeline, Ethan never got off the island to become an other while Miles still got off the island with his mom and therefore never met his daddy. It just doesn't fit here... the final question this is about, is, i guess: "Why did Miles and his mom leave in the unaltered past?"
Know what i mean? :) --Wurmor 13:38, February 10, 2010 (UTC)
Who said that Ethan never got off the island? He was probably evacuated with his Mom and returned some time later. Miles and his Mom stayed on the main land after leaving the island. MessyM 13:52, February 10, 2010 (UTC)
See my post on the theories page. This explores this idea in a bit more depth. I think this is a defining moment, and ties down exactly what this timeline is, and is not. --Sean Sheep 14:07, February 10, 2010 (UTC)

I would assume that his recruitment involved Ben: he was with him when he took Alex, after all. But Ben would never join the Others in this timeline, as that only happened due to him getting shot by Sayid. --Golden Monkey 14:50, February 10, 2010 (UTC)

False. Richard had already told him he could probably join (if he was patient) long before he got shot by Sayid. Michael Lucero * Talk * Contributions

Ethan had extensive medical training in both timelines. It was unlikely he received it on the island. It seems most likely that he grew up off-island in both timelines.
They evacuated the island before jughead exploded. If the island sank when jughead went off, then Ethan was off at sea - probably grew up in the states and got his medical training there.--Pittsburghmuggle 22:51, February 10, 2010 (UTC)
Not September 22nd, 2004
Ethan (Dr. Goodspeed) says that Claire is 36 weeks (9 months) along in her pregnancy, but when the plane crashes in the Pilot, Pt. 1, Claire says that she is only 8 months pregnant. Does the new Oceanic 815 land at LAX on a different date? Rddswim 15:40, February 10, 2010 (UTC)Rddswim
Trivia
General: Kate was the first of the characters to have an episode dedicated to both their own flashbacks and their own flash sideways.
I don't recall seeing any flashbacks in this episode. Is this true?

I think it means that Kate was the first character to have an episode dedicated to her own flashbacks (Tabula Rasa), and one dedicated to her own flash-sideways (What Kate Does) - not both in the same episodes. I agree, it should be worded differently though...
Bloopers: In "Meet Kevin Johnson", the Temple was far enough away from the Barracks that it required a map to get there and the journey took a day and a half (according to Ben). In this episode, people go from the Barracks to the Temple within a short time period.
No one went from the barracks to the temple in this episode. Also the map was only necessary for Rousseau, Alex, and Karl who had never been there before.

Of course, they did the opposite. Kate started off at the Temple, she went to the barracks. The Others needed to take a day and a half to get there, implying some distance. I doubt the distance changes either way. Here, it took no time at all for someone to go from the Temple to the Barracks. --Golden Monkey 19:28, February 10, 2010 (UTC)

The day and half reference might be the time it takes an entire camp of people (all the Others) to go from the barracks to the temple, what with all the people and the gear. The time it takes one person (Sawyer, then Kate) could be significantly less. This is not necessarily a blooper.

That still shouldn't shorten a day-and-a-half journey to less than a day. I think it's a valid blooper. --Celebok 21:05, February 10, 2010 (UTC)

It could be it's uphill (or say around a long cliff) to get to the temple from the barracks, a cliff that can easily be climbed down by one person. I'm in full agreement with you, just offering a possibility for the suspension of disbelief.--Pittsburghmuggle 23:09, February 10, 2010 (UTC)

Bloopers:
"When Kate and Jin say good by to Jack, Jin first wears a white shirt when he leaves the screen, in the next shot from above another guy took Jin's place and wears a brown jacket. "
The guy in the brown jacket is Aldo, who has been waiting for both Jin and Kate. Jin had left the room before Kate spoke to Jack. So it is not a bloober.Ca3desnox 22:46, February 10, 2010 (UTC)
What did Kate do?
Given the title of the episode, I was expecting Kate to do something profound, or something strongly related to aligning the parallel timeline with the origional (like Kill her step dad instead of the apprentice). Did I miss something? Don820 19:56, February 10, 2010 (UTC)
Well, it is just a reference to "What Kate Did" but I believe it also refers to the fact that Kate runs. That's what Kate does, she runs. But while she is wanted for murder, she still has a caring side which is shown by her compassion to Claire. I think that's also a reference to the likes of Tom Brennan who she feels guilty about after causing his death, and Ray Mullen who despite turning her into the police, she still wants him to receive the reward payment of $23,000. In "Tabula Rasa" the Marshal calls her "one of a kind" when she reveals this to him.--Baker1000 20:27, February 10, 2010 (UTC)
Frozen Wheel / Dharma Wheel on Claire's shirt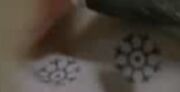 In the hospital scene where the closeup of the sonagram Claire is holding is shown, the patterns on Claire's shirt look very similar to the Frozen Wheel. Gubrutz 20:56, February 10, 2010 (UTC)
Where's the outrigger? Possible continuity error
In "Dead is Dead", Flocke and Ben paddled an outrigger canoe from the Hydra island to the main island and docked it at the submarine dock and never returned to it. So it should still be there. When Sawyer and Kate sit on the same dock, the canoe is not there. Can this be considered a continuity error? I mean, you could speculate that the Others took it or something, but I suspect that it's more likely just an oversight by the writers. --Celebok 21:12, February 10, 2010 (UTC)
It may be an oversight, but it's not a true continuity error because there are several explanations as to what may have happened... I don't recall them mooring the outrigger at the dock, so it's likely just floated away in the several days since "Dead is Dead". In fact, it'd be much more unrealistic for the outrigger to remain by the dock when there's nothing to secure it, so I don't think this should be considered a blooper...--BADavid 21:42, February 10, 2010 (UTC)

Plus, for all we know, somebody took it in the interim. The Others, zombie Caesar, a polar bear out on a nice afternoon, etc. --Golden Monkey 22:44, February 10, 2010 (UTC)
What Resurrected Sayid?
We are supposed to believe, I think, from this episode, that Sayid came back to life because he was "claimed". But if that is the case, why didn't Rousseau's team members come back to life when she shot them? So, was it the pool? Was it just delayed by the water being cloudy? We need some clarity and consistency on this matter, and I have a feeling we aren't going to get it. Michael Lucero * Talk * Contributions
Baby Questions
Is there such a department as an "Obstetrics Triage" department, or at least one so important that it actually has a door with the name "OB Triage" on it? I would imagine triage would happen in the ER, rather than a specific OB Triage department - how many childbirths does that city have per day to necessitate an entire OB triage department?!
And also, having been through the birth of three kids myself (though my wife did most of the heavy work), CAN they give you drugs to put off childbirth? I think they said Claire was at 36 weeks - that seemed like a perfectly decent (though admittedly a little early) time to have the baby.--Pittsburghmuggle 22:58, February 10, 2010 (UTC)
page 603 doesn't exist, how do you make it so?
When you type '603' in the search engine, it doesn't direct me here. Isn't this why we changed the numbering? How do you make it so? - Shortguy457 23:00, February 10, 2010 (UTC)
Our standard notation is 6x03; it worked.--Jim in Georgia Contribs Talk 23:04, February 10, 2010 (UTC)

You type 602 or 601 it directs you to "LA X" why change? - Shortguy457 23:17, February 10, 2010 (UTC)

All the redirects on the site are there because editors decided to put them there. You create a redirect by editing a page and putting as its content #REDIRECT [[Name of page to redirect to]]. If you want to create a redirect for 603, I don't see a problem with it, unless the number 603 has some other meaning within the context of the show (like 316, which actually goes to 5x06).  Robert K S   tell me  23:39, February 10, 2010 (UTC)