Why do people believe that Jack finished off the marshall?
He point blank refused to participate in euthanizing him, even while acknowledging that his death was certain and would be painful. Jack let him suffer for hours. Even after Sawyer shot him, Jack immediately began to try to stop the flow of blood from the chest wound. While he theorized that it would take "hours" for him to "bleed out," Jack had no crystal ball or way to know exactly how long it would take, and considering his near-death state, that he died much faster than "hours" is no indication that Jack suddenly changed his moral compass. Without proof, at best, this is an unaswered question.Namastizzay 23:03, 6 April 2009 (UTC)
Later episodes make reference to Jack euthanizing the marshall.  Jimbo the Tubby  talk  contributions  04:04, 7 April 2009 (UTC)
Can you provide a citation, please? Namastizzay 23:16, 7 April 2009 (UTC)
I've gone through season 1 transcripts and the the few references to the marshal do not say anything about how he died, only that he wasn't burned in the fuselage with the people who died in the crash. Jack says that he needed to bury him. I think this is simply a case of people misunderstanding the circumstances of the marshal's expiration, and that people are ignoring Jack's inherent nature and the fact that, until much later in the story, he would never actively contribute to an innocent person's death. Jack would refuse to give up on anyone. But if there is evidence, I'd be happy to be aware of it. Or if anyone can suggest a way that Jack could finish the marshal off in the time he had, I would be interested to hear such a theory. The only ways I can think of would be beyond Jack's abilities at that moment, and within the time available: 1) Blunt force trauma to the skull. 2) Breaking his neck.
I don't have a specific quote for you, but I'll try to remember to look for it next time I rewatch Season 1. If I recall correctly, it's something Sawyer says. At any rate, everything in this episode and later suggests that we are meant to infer that that is what happened. Nothing in the show has happened to imply otherwise. To raise it as an unanswered question is purely speculation.

 Jimbo the Tubby 

 talk 

 contributions 

05:42, 8 April 2009 (UTC)
Clue about Locke and smoke monster
I was watching Tabula Rasa again and noticed something interesting in the end. In the last few seconds Locke is starring out into the ocean and the camera does a 180 deg spin around, finishing with a close up of Locke's face. A moment before it fades to black, you can hear the sounds of the smoke monster/MIB with Locke's face filling the screen. WIth what's been happening now in season 6, I think this is a message. You all give it a watch (listen)
-Eric--Ericc99 03:58, February 21, 2010 (UTC)
I can't hear it mate - tho' there is a sound that resembles Smokey's 'siren'. However this quickly changes pitch (whereas Smokey's 'hoot' is always 440Hz).
9emini 04:52, April 12, 2010 (UTC)
Errors?
The "Recurring Themes" section claims "When asked about what happened up in the mountain by Claire, Charlie denies that anything took place." In fact, the scene ends before Charlie has a chance to answer.
"Storyline Analysis" claims "Michael fights with Locke about the time he shared with Walt and making the whistle used to find Vincent". I've just watched the episode and am certain I saw no such thing!
9emini 05:02, April 12, 2010 (UTC)
Picture discussion
Any thoughts on using Kate's mugshot at the episode's picture? It's not a very large close-up of Kate unfortunately, but it's a picture of her. And it sums the episode up better than the current pic, whose scene you can't identify too easily. (It's from a flashback with Ray Mullen, but who'd guess?) ---
Balk Of Fame
♪
talk
21:37, August 23, 2010 (UTC)
I realize this discussion was from a while ago, but if I may, I'd like to suggest a change in the picture again. It doesn't seem like the best choice to me, it doesn't really sum up the episode well. I think that one of these would be a better option:
--GrinningTurtle 21:43, March 25, 2011 (UTC)
We still could use a better picture. But the general policy says episodes with a single centric character should always have pictures with just that character. --- Balk Of Fame ♪ talk 08:20, March 26, 2011 (UTC)
This other option has just a sliver of Ray, and it's of Kate looking at the Marshal. And number 5 in the series is Kate talking to Mars in his tent. Again, the current one's okay, but pop in a toy plane, and we have the pic for Kate's next centric --- Balk Of Fame ♪ talk 03:44, April 3, 2011 (UTC)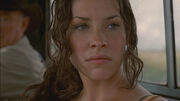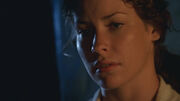 Headcount, looks like its changing to the last one
Community content is available under
CC BY-NC-ND
unless otherwise noted.