Dutch Paper
In a Dutch paper was that Naveen Andrews doesn't what happened in the storyline. I'm sure this is not true. Do you maybe know of Naveen Andrews is aware of what happened in LOST?--Station7 15:17, November 9, 2009 (UTC)
I have the source for the last trivia sentence. It's from de Telegraaf, a Dutch paper. Only, I have no date from the info. So, I have the info, but without a date. --Station7 21:02, February 18, 2012 (UTC)
BTW, do you have a link or something for your Dutch source? If it says he watched only the Pilot but not the rest of the series, that's a useful source.--Baker1000 21:59, February 20, 2012 (UTC)
Actually, I can't copy it, because I have no mobile for it. However, I can ask the Telegraph if they can send me copy on the Internet or here? |What do you think is the best? Asking if they can post it, if that possible?
However, I have it in my room the evidence. The clearly evidence. But I have an idea, but not very useful. I can use skype and focusing on the things about him. Then I copy it and past it here ;) --Station7 22:35, February 20, 2012 (UTC)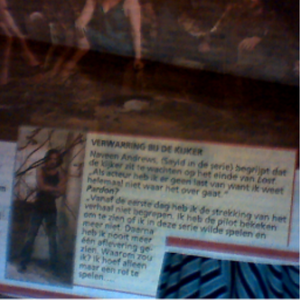 Sayid in the Dutch paper

Here it is Baker1000. Clearly evidence ;) It's Dutch, but you can always translate it. --Station7 22:41, February 20, 2012 (UTC)
Thanks. If you could please translate it into English we could use a link to this talk page as the source for the trivia. :)--Baker1000 21:49, February 21, 2012 (UTC)
Sure, I will translate it tommorow. Help me don't to forget this ;) --Station7 23:24, February 21, 2012 (UTC)
Here's the complete translation :) --Station7 21:18, February 22, 2012 (UTC)
Community content is available under
CC BY-NC-ND
unless otherwise noted.