Faults
His first aid skills are rusty for a lifeguard (he has just been in a plane crash and we don't know how long ago he was a lifeguard) and for some reason thinks a tracheotomy might help Rose who has stopped breathing.
He certainly wasn't the sharpest knife in the kitchen. Probably bought the job. --skks 09:23, 12 March 2006 (PST)

A shared trait with his sister for ineptitude for sure. Seems to be innocent enough in the grand scheme of things with hindsight.
But his heart was in the right place!--NotARedHerring 20:24, 26 September 2006 (PDT)
Sacrifice the Island Demanded?
Alright, hang on.... One of the first main points about Boone: "Boone was on the island for 41 days before he died of injuries he sustained in a fall. He was the sacrifice the island needed." Now, I believe as much as the next man (probably much more) that Locke is on to something when he says that Boone "was the sacrifice the Island demanded"; the island, I believe, is an entity (that manifests itself as the Monster) that can claim victims for whatever reason it chooses (probably because of their self-perceptions, etc. Not for this post!).
However, we can't state AS FACT that Boone was a sacrifice, much less one demanded by the Island. Don't write as fact what isn't necessarily true!
- mr_tee_canada
DOB
On the date of birth, it says 22. What is this? If this is his age, then put "age" instead of dob. --Marik7772003 16:29, 11 August 2006 (PDT)
"The Greater Good": around 29 mins - a card in Boone's wallet has a date on it - "xx/10/81". Seems possible that this is his DOB - so, should we change the year to 1981? --Asgan 12:20, 22 May 2008 (PDT)
Good question. What is the basis for 1982? Robert K S (talk) 15:40, 22 May 2008 (PDT)
Images
The user Quint made several changes in the images format of this page. I would like the other editors to vote on their favorite version:
Bu the way, Quint, I didn't mean to hurt you. I appreciate your time and contribution.  ODK Talk   Sandbox 18:05, 13 February 2007 (PST)
Its all good, but i wasn't even done. i was gonna add a bunch of images and text onto it. ~Quint
Earlier Version IMHO, less is really more. Too much images can keep the article unnecessarily cluttered. Furthermore, I find that the earlier promo images enabled a better presentation of the article, and was more consistent together and to many other character articles. Thus, I vote for the earlier version.-- 14:47, 14 February 2007 (PST)
Last Appearance?
Seems like all or at least two of Boone's appearances after his death are also listed under last appearance, but for other characters who have died and appeared again more than once such as Ethan only have one post mortem appearance listed. Which is the more correct usage? --Jackdavinci 22:00, 5 April 2007 (PDT)
I went ahead and removed Further Instructions -- Comedy240 17:38, 6 March 2007 (PDT)

But this version of Boone last appeared in Further Instructions. Another alternate-timeline version appeared in LA X. So the former should eb listed as this version of Boone's last appearence.--CooperSimply 19:39, February 6, 2010 (UTC)

His appearance in LA X shouldn't be listed here, since we have separate pages for the main and flash-sideways version of Boone. There's no point in having two pages if we're just going to be inconsistent and mix up appearances. --Golden Monkey 13:11, March 17, 2010 (UTC)
Expose Information
Should this be in a separate category of its own, or integrated into the Season 1 section like the Shannon article? Because while the events were shown to the viewer in Season 3, they actually happened in Season 1. Either way, there should be one standard way of inserting these appearances (either both integrated like Shannon, or both separated like Boone) -- Quicksilver4444 04:10, 15 April 2007 (PDT)
All flashbacks in character articles when possible should be in chronological order, integrated into the character'shistory, with a crossref link to each episode.--Jackdavinci 21:36, 14 April 2007 (PDT)
Death
In the trivia section I wouldn't think "accidentally falling from a great height" would be considered dying from natural causes. --ISeeDeadPixels 10:07, 15 April 2007 (PDT)
Extended Finale
Can someone add that the Oceanic Six said Boone was one of the three people who died on the island (along with Libby and Charlie) in the enhanced version of part one of the finale airing tonight (in fact, right now)? --Adi23 17:20, 29 May 2008 (PDT)
Diabetes?
I seem to remember reading, a couple of years ago, reading an interview with Ian Somerhalder discussing the Island's healing properties, in which he stated Boone wore a medicalert bracelet stating he had diabetes as a prop. Does anyone know what I'm talking about? I've tried locating the piece, in order to include the information in the article, but I've had no luck. Now, since it's been years, it's possible my memory's simply fuzzy and I'm randomly making stuff up (though I really don't believe so.) so umm ... does this sound familiar to anyone else? --LeoChris 16:14, May 30, 2010 (UTC)
New Profile Picture
I nominate that we change the current picture to the one shown below for multiple reasons. 1) It just looks better in my opinion 2) It isn't on an angle, the photo is taken horizontally 3) It rocks :O And I've never seen it before!!!! Julietfan2626 Talk Blogs 19:34, March 17, 2011 (UTC)
It's great picture, but had he ever those clothes on? --Station7 21:02, March 17, 2011 (UTC)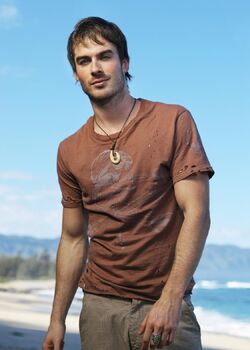 I'm sure he'll have wore something similar Julietfan2626 Talk Blogs 21:03, March 17, 2011 (UTC)
Community content is available under
CC BY-NC-ND
unless otherwise noted.