Susan redirects here. For the expanded universe Other, see Susan O.
Susan Porter (née Lloyd), a lawyer, was Michael's girlfriend and Walt's mother. She died of a blood disorder in Australia.
Michael and Susan were not married when they had Walt, who therefore took Susan's last name, Lloyd, but was named Walt by Michael after his father. When she was pregnant with Walt, she was studying in law school, while being supported by Michael, who was making an income in construction even though he was an artist. When Walt was an infant, Susan moved from New York to Amsterdam for a job opportunity in international law, taking Walt with her. By the time Walt was 24 months old, she had begun a relationship with Brian Porter, her new boss that had originally recruited her to Amsterdam. Also at this time, Michael was involved in a pedestrian car accident, but Susan did not hear about Michael's hospitalization for another two months, when she checked with Michael's friend Andy. At this time she visited Michael, to pay his hospital and rehabilitation bills, and to inform him that she was marrying Porter. ("Special")
Later, she and Brian won a custody battle over Walt, where Michael relinquished all his paternal rights, allowing Porter to formally adopt Walt as his legal father. At the time, Michael was financially doing poorly, and was close to being evicted, and Walt had therefore been living with Susan and Brian in Amsterdam. Susan and Brian accepted a new law position based in Rome, Italy, where Susan's new title represented a promotion to senior partner. ("Adrift")
Susan later moved to Sydney, Australia with Brian and Walt, where she developed and succumbed to a fatal blood disorder. Brian later revealed to Michael that the idea for adopting Walt had been Susan's. Walt's nanny Dagne also revealed that Susan had been intercepting all of the letters that Michael had been writing to Walt.
The Lost Experience (Retrievers of Truth)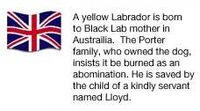 Susan's maiden name is Lloyd. When she married Brian, she changed her surname to "Porter". In the Lost Experience website, Retrieversoftruth.com, the story of a Yellow Labrador being born to a Black Labrador mother is told. The story goes that when the puppy was born, the Porter family ordered that it be destroyed, however, it was saved by the son of a servant whose name was Lloyd.