"Sundown" is the 6th episode in Season 6 of Lost and the 109th produced hour of the series as a whole. It was originally broadcast on March 2, 2010. Sayid is faced with a difficult decision, and Claire sends a warning to the temple inhabitants.
Synopsis
Previously on Lost
Flash-sideways timeline (2004)
Sayid is sitting in a cab in Los Angeles. After paying the cabbie he gets out and rings the doorbell at a house. Nadia answers the door, and it is revealed that she is now married to Omer, Sayid's brother, and has two children.
Omer wakes Sayid up in the middle of the night and asks Sayid to force a man to leave him alone. He had borrowed money from this man and paid it back, but the man said he still had to keep paying him. Sayid refuses to torture this man, saying that he is "not that man anymore."
Omer is seriously injured and put in the hospital. when Sayid and Nadia arrive at the hospital they pass Jack heading the opposite way down the hall reviewing a medical chart. Nadia asks Sayid why he pushed her to his brother; Sayid replies that he(himself) doesn't deserve her.
As Sayid is leaving Nadia and Omer's house a black SUV pulls up.
Omar
gets out and asks Sayid if he is going to pick up the kids. A second man exits from the vehicle as Omar asks Sayid to get into the car. When Sayid hesitates Omar asks him in arabic if he wants for them all to pick up the kids together which prompts Sayid to comply. Sayid is brought into a large kitchen in which a man is cooking eggs. As Sayid sits in the chair Omar offers him the man offers him some eggs which he says he can prepare fried, scrambled, or even poached. In his opinion he can make some very good eggs indeed. Sayid declines and before the man sits to enjoy his eggs he introduces himself as
Martin Keamy
. Martin asks Sayid how his brother is doing because he knows he was mugged right in front of his own store. Martin says that it is good that Omer is still around to take care of his family and asks if Sayid also wants to take care of Omer's family. Martin explains that Sayid's brother borrowed money from him and that payments must be made to service that debt. When Sayid tell Martin that his brother says he has already paid him everything that he owes Martin tells Sayid that that is a lie. Sayid then asks Martin if he put his brother in the hospital which Martin denies. Sayid then attacks Omar and uses him as a human shield when Martin's other henchman fires his gun at Sayid. Sayid then shoots the second underling and Keamy offers to forgive the debt if Sayid simply relaxes and forgets about it. Sayid cannot forget about it and he shoots Keamy. Sayid hears banging noises coming from the walk-in freezer and when he enters it to investigate he finds
Jin
, gagged and held hostage.
Original timeline (2007)
Sayid goes to Dogen to get answers about the machine they hooked him up to when they said they were testing him and they stuck him with needles. Dogen tells him that for every man there is a scale and on one side of the scale there is good and on the other side evil. The machine tells them how the scale is balanced and Sayid's scale tipped "the wrong way". They tried to poison Sayid because Dogen thinks it would be best if he was dead. Sayid tells Dogen that he does not know him even though he thinks he does and that he is a good man. Dogen then attacks Sayid and a vicious fight ensues which leaves the room in disarray. Dogen gains the upper hand and has the opportunity to stab Sayid in the throat, but as he sees his baseball fall off the table he has a moment to reflect, and instead tells Sayid to leave and never return. Dogen then picks up his baseball off of the floor.
The Man in Black, standing at the circle of ash, sends Claire into the temple with a message for Dogen. Claire arrives and tells Dogen to go out and talk to the Man in Black; when he refuses, remarking that he is "not a fool" and that the Man in Black would kill him, Claire suggests he instead send someone that the Man in Black won't kill. Dogen then has Claire thrown into a pit. Dogen arms Sayid with a dagger and sends him off with instructions to to kill the Man in Black, being sure to do it quickly, before the Man in Black speaks.
Kate arrives at the Temple, where, after a short conversation about Sawyer, Miles reveals that Claire has returned. Lennon finds Kate looking for Claire and attempts to stop her, but after Kate forcefully demands that she be allowed to see her, he allows Kate two minutes to speak with her. Kate reveals that she has been raising Aaron off of the island, thinking that Claire will be relieved and grateful, when in fact she is shocked and outraged. When Kate says that she returned to the island to "rescue" Claire, Claire ominously responds that she is "not the one who needs rescuing."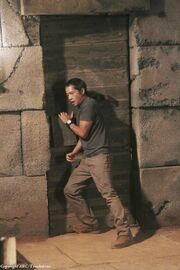 Sayid tries to kill the Man in Black but the Man in Black greets him, and when Sayid stabs him, the dagger doesn't wound him. The man in black offers Sayid anything he wants - he says that he could have anything in the entire world. Sayid replies that the only thing he ever wanted died in his arms and that he will never see it again and the man in black asks him what if he could. Sayid returns to the temple and tells everybody they can meet with the Man in Black before sundown and be saved, or stay and die.
A large number of Temple inhabitants including Cindy decide to flee, despite the objections of Lennon, who shouts that the Temple is still safe and the Man in Black can't get in. Miles meets up with Sayid and asks whether they should escape, but Sayid says he first needs to return Dogen's dagger to him. In the Temple pool room, Sayid confronts Dogen over why he wants him dead. Dogen reveals his history, saying that he had been a businessman in Osaka with a twelve-year-old son who enjoyed playing baseball. After his son died in an accident, Dogen was approached by Jacob, who offered him a bargain: Dogen's son could be saved, but only if Dogen would come to the Island and work for Jacob. Noting that it's sundown, Dogen asks Sayid whether the man outside offered a similar bargain and what Sayid's decision is. Sayid states that he would like to stay, then tackles Dogen into the pool and holds him underwater, drowning him. Lennon rushes in, saying that Dogen was the only thing keeping out the Man in Black. Sayid says he knows, and slits Lennon's throat with the dagger, then throws his body into the water. The Man in Black then invades the temple in Smoke Monster form.
Kate goes to get Claire while Miles gets out. Miles tries to barricade himself in a store room, but the door is broken down by Ilana. She takes Miles and her group to the secret passage while Ben goes to find Sayid. Upon finding him, backs away in fear. Meanwhile, Sun asks Miles if he had seen Jin, and was elated by his answer. Before she could celebrate, the group reached the passage where they hid from the Monster.
After the Man in Black destroys the temple, Claire, Kate, Sayid, Cindy, Zach, Emma, and a dozen or so Others flee the Temple and align with the Man in Black in exchange for their lives while the rest of the Others who chose to stay in the Temple are killed.
Trivia
General
Based on the episode title and previously followed pattern of S6 matching S1 centricity, the producers clearly intended us to anticipate this as a Sun centric episode, when in fact it was centered around Sayid.
Production Notes
Bloopers and continuity errors
Recurring themes
Storyline analysis
Sayid kills the men in the restaurant kitchen not only to save himself but also to save his brother from further "penalties" for late payments. (Crimes)
Cultural references
Deep River: Shusaku Endo's 1993 novel about four Japanese tourists on a trip to India, interrupted by the assassination of Prime Minister Indira Gandhi. Each of these tourists goes to India for different purposes. (Literature)
Passover: With Sayid warning the Temple people about the coming of the Man in Black, they can choose to stay or leave. Those who would leave would be spared, but those who stayed would die. The final plague in the Bible talks of God sending the Angel of Death to Egypt and would kill the firstborns, but would pass over those who stayed true to Him and obeyed him. (Religion and ideologies)
Baseball: Dogen mentions how he used to pick his son up from baseball practice every Friday night. (Games)
Temptation of Christ: Saiyd is approached in the jungle by the Man in Black who offers to reunite him with Nadia if he follows him. After being baptized, Jesus enters the wilderness and is approached by Satan who offers him dominion over the world if he follows him. (Religion and ideologies)
Shen ring: the hieroglyph tile on the wall in the temple hallway that Ilana pushes to open the secret passage is a Shen ring]. The Shen ring is an ancient Egyptian symbol of eternity and protection. In ancient Egypt, the Shen Ring also represents dual concepts of time; the cyclic line of periodicity and lineal time (into infinity). [1]
Catch a Falling Star: this 1957 song is sung by Claire in The Hole and played after the temple is destroyed. (Music)
Star Wars Episode III: Revenge of the Sith: Sayid is recruited by the Man in Black when the latter says he will be able to see Nadia again if he joins him. Sayid's first act after being recruited is going to the temple and killing Dogen which allows the Man in Black to enter killing the others. This is similar to when Anakin is told he will be able to save Padme if he converts to the Dark Side. Anakins first act as a Sith is to go to the Jedi temple and to kill the younglings. (Movies and TV)
Literary techniques
Episode References
Unanswered questions
Unanswered questions
Do not answer the questions here.
Keep the questions open-ended and neutral: do not suggest an answer.
For fan theories about these unanswered questions, see: Sundown/Theories
How did the Man in Black enter the Temple if the ash line remained (presumably) intact?

How is Dogen's life attached to such rules based off of Lennon's concern over the death of Dogen?

Why was Jin tied up in the refrigerator of the restaurant?
External links