Sun wore on her finger a wedding ring from her marriage to Jin.
Before the Island
During their wedding ceremony, Jin handed Sun her ring, promising they would never be apart from each other. ("The Incident, Part 1")
On the Island
When talking to Claire on the beach, Sun suddenly started to frantically search after realizing her ring was missing. Jack told Sun a story about his lost wedding ring, and how he never found it and had to buy a replacement, without his wife knowing. He said he could help find it, an offer which Sun declined. ("...And Found")
Hurley later suggested to Sun that Vincent had eaten the ring, telling her his story of his dog, Buster, that used to eat loose change.
In frustration over losing the ring, Sun tore up her garden when Locke approached. Sun asked Locke why he was never angry. Locke told Sun that he used to be "angry and frustrated" but he was no longer lost. Sun asked him how he "found himself." Locke calmly answered, "I stopped looking."
Later, Kate tried to reassure Sun that her ring would be found, something Sun strongly doubted would happen, as she revealed that the message bottle had been found by Claire. Kate asked where it was buried, and Sun showed her. Upon digging up the bottle, Kate became upset and began to read the messages. Sun stopped her, saying that the messages were private. Kate then glanced at the sand and told Sun to look down. Sun's wedding ring was lying in the sand. Sun then laughed, relieved that her ring was safe, before slipping it back on her finger. ("...And Found")
After the Island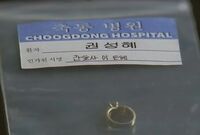 The ring in a hospital bag.
A nurse removed the ring from Sun's finger at Choogdong Hospital just before Sun gave birth to her daughter Ji Yeon Kwon. Dr. Bae told her that the ring had to be removed due to the swelling that occurs at childbirth. Sun later retrieved the ring from a hospital bag. ("Ji Yeon")
See also