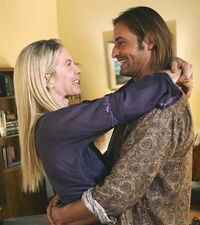 Fanon
(Fan created content. Distinct from hoaxes and parodies)
Suliet is the fan-given nickname to the romantic pairing between Sawyer and Juliet. Sawyer and Juliet are soulmates, as seen in The End. It is part of the love quadrangle featuring Jack, Kate, Sawyer and Juliet. The other parts are known as Jate, Skate and Jacket.
Timeline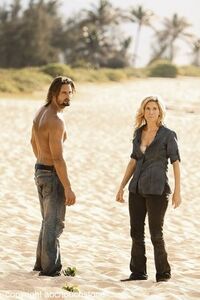 "

The Beginning of the End

" - Juliet and Sawyer begin to dig graves at the beach. Later, Juliet and Sawyer are split up when Sawyer goes to Locke's camp, while Juliet stays at Jack's.
"

There's No Place Like Home, Parts 2 & 3

" - Juliet and Sawyer are reunited when Sawyer returns to the beach. A drinking Juliet shows Sawyer the smoking freighter. Later, the island moves with Juliet and Sawyer still on it.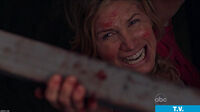 "

The Incident, Parts 1 & 2

" - Juliet convinces Sawyer to go back to the island to prevent Jack from detonating the bomb. When they arrive, and Sawyer glances at Kate, Juliet changes her mind and decided that she would like to help Jack because if she never meets Sawyer then she never has to lose him. Later, as the electromagnetic pull of the packet of energy is released, Juliet is hit by chains and gets dragged towards the pit. Sawyer grabs onto her and refuses to let her go. Juliet can see that the scaffolding that is supporting him is starting to come apart so she says that she loves him and lets go. Sawyer is devastated.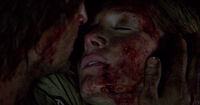 "

LA X, Parts 1 & 2

" - As all the survivors who were near the pit are returned to 2007, Sawyer discovers Juliet is still alive in the pit. As the survivors clear the debris above her, Sawyer worries that she is badly hurt. Blaming Jack for what happened, he tells Kate, "if she dies, I'll kill him." Finally they are able to clear a path for Sawyer, who finds Juliet in critical shape. She discloses that she hit the bomb, in order to try to send him home. Sawyer stays with her as she dies. Her last words are, "I have to tell you something. It's really, really important."
"

What Kate Does

" - Sawyer travels back to the house he used to live in with Juliet. He gets something from a box hidden underneath the floorboards and sits on the pier outside. He tells Kate that he was going to ask Juliet to marry him and with that, he then throws the ring into the ocean.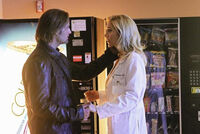 "

The End

" - In the flash-sideways timeline, James goes to the hospital where Juliet works and goes to the vending machine. When his Apollo Bar does not come out of the machine, Juliet tells him to unplug the machine and then plug it back in again and the bar will fall right out. James does so and Juliet gives the bar to him saying "It worked." As they brush fingers they have a brief flash of their time together on the island. Juliet asks James to go for coffee with her and the two suddenly have long flashbacks of their lives together. As they remember they hug romantically and then kiss each other passionately for several moments. Later, James and Juliet move on whilst holding hands next to their friends from the island.
Trivia
Suliet's kiss scene in LaFleur won the LOST love quadrangle showdown on the official ABC website on May 13th, 2009. There was 16 candidates under 4 categories; Jate, Skate, Jacket and Suliet. Suliet beat Skate at Round 3 and went on to beat Jate in Round 4 becoming crowned the best quadrangle couple.
Unanswered questions
Unanswered questions
Do not answer the questions here.
Keep the questions open-ended and neutral: do not suggest an answer.
For fan theories about these unanswered questions, see:

Suliet/Theories
See also