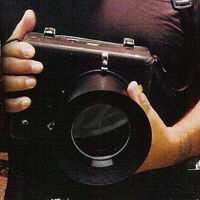 Still photography is the creation of promotional still images, which may be known as promotional stills, promo stills, or promotional photos.
In television and film productions, the still photographer uses a digital camera enclosed with a sound-deadening device known as a "blimp." This device makes the click of the camera inaudible, allowing the still photographer to take images of the actors during actual filming and sound recording, rather than in a separate session afterwards. IATSE (Local 600 Cinematographer's Guild) is the union for still photographers. [1]
Promotional photographs are usually taken during filming of film and television productions, but may include photography from promotional events.
Lost
On Lost, Mario Perez is employed by ABC as the still photographer. His images have been used in ABC press releases and media kits, as well as by Lost: The Official Magazine.
Because the images are taken during actual filming of the scenes, their content and arrangement are often very close to what appears in the episode, but not always. These difference may be a result of slightly different angles compared to the filming camera, different fields of view of the lens, and the fact that post-production color correction and visual effects have not been applied. Also, the photo may be from a film take that was not used in the final cut of the episode, from a deleted scene, or may be posed or candid photographs taken while filming was not actually in progress. The promotional stills are almost always of much higher resolution than images from broadcast or DVD media.
External links