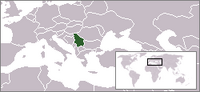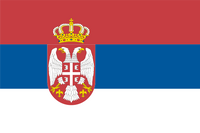 As of 2014, Lost is broadcast in Serbia in English with Serbian subtitles by the television station Pink under the title Izgubljeni. The first airdate was October 1, 2005, when the country's official name was still "Serbia and Montenegro".
Title: Izgubljeni ( Изгубљени )
Broadcast: by RTV Pink, Fox TV Serbia
When:

Mondays 19.00h (Fox TV Serbia)
Monday-Friday 20:15h (Prva Plus)

Dubbed: - No
Subtitled: - Yes
RTV Pink
RTV Pink is a TV network based in Serbia (the former Yugoslavia) with stations in several nearby countries of the former Yugoslavia such as Bosnia and Montenegro. The parent company is called "RTV Pink International", owned by Željko Mitrović.
TV Pink is known for a mix of light entertainment, mostly a compilation of movies, US and Latin soap operas, and talk shows. Criticisms include that Pink channels promote the turbo-folk music genre, as well as being generally sensationalistic, a general perception of the channel which may partially explain Lost's general lack of popularity in this country.
Beginning September 22, 2008, Lost began to be broadcast by Fox TV Serbia (Fox Televizija Srbija), beginning at Season 1.
RTV Pink has the rights to broadcast Lost in Serbia, Montenegro, and Bosnia, and as of April 2008 had purchased and broadcast Season 1 and Season 2 only. A small station called Alternativna Televizija (aTV) broadcast Seasons 1 through 4 in Bosnia, although it is believed they did not officially have the rights to do so.
Prva Plus
Prva Plus started to broadcast the whole series from September 1, 2014.
See also
External links
This article is a location stub
This location-related article is short and lacking information. You can help Lostpedia by expanding it.