Sean Dowling works in employee relations for Oceanic Airlines, in the storyline of the alternate reality game Find 815. After meeting with Sam Thomas and giving him numerous warnings regarding his public comments about the airline, he emails Sam to let him know he has been released from his position at Oceanic.
He also phoned to tell Sam that as a result of his dismissal, his loyalty flyer points with Oceanic had been revoked in line with company policy. (Find 815 clues/January 17)
Email
E-Mail from Sean Dowling (Oceanic Air)

Subject: Termination of Employment
Dear Mr Thomas,
Further to our meeting of last week, I confirm that your employment with Oceanic Air is terminated with immediate effect.
The reasons for this termination were outlined at the meeting - namely, that despite repeated verbal and written warnings, you continued to make derogatory and unauthorised comments about Oceanic Air in public. This conduct was contrary to Section 23 of your Employment Agreement and is grounds for summary dismissal.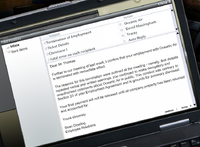 Your final payment will not be released until all company property has been returned and accounted for.
Yours sincerely,
Sean Dowling
Employee Relations