Roland Sanchez was a costume designer on Lost, from Season 2 onwards.
Sanchez appears in the featurettes "Lost in a Day", where he is looking for costumes for "Catch-22", as well as in "Crew Tribute with Evangeline Lilly", on Lost: The Complete Third Season (DVD). Sanchez also is featured in the Official Lost Podcast for February 08, 2008. Sanchez also co-hosted a seminar at the 2009 Hawaii International Film Festival with Rob Kyker entitled "Master Class: "Costume and Props".
Staff
Other crew that work under Sanchez in the Costume Design department include Billy Ray McKenna, Kathryn Morrison, and Susie Zaguirre.
Trivia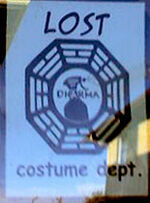 See also
External Links