Real World article
(written from a Production point of view)
Robert Patrick

Robert Patrick plays Hibbs
Character(s)
Hibbs
 
Date of Birth
November 05, 1958 (age 60)
 
Origin
Marietta, Georgia, USA
 
IMDb profile

Robert Patrick played the role of Hibbs.
Background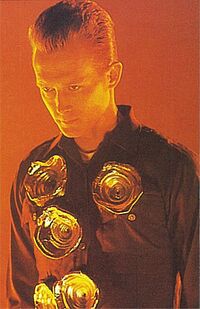 Patrick found fame as T-1000 in Terminator 2: Judgment Day
Frequently cast as a man of the law or criminal.
Married in 1999, has two kids.
Enjoys riding motorcycles.
Patrick worked as an actor since he was 16, yet he found fame when he accepted the role of T-1000 in Terminator 2: Judgement Day. He also joined the cast of X-Files during its last two years. His other notable appearances include Copland, The Faculty, Spy Kids, Ladder 49 and Firewall and Walk the Line. He also guest starred in Sopranos, Law & Order:SVU and Stargate Atlantis.
Appeared in 2006's We Are Marshall along with Matthew Fox.
Triva
Community content is available under
CC BY-NC-ND
unless otherwise noted.