This article or section is under construction


Expect many and frequent revisions to this content.
This article or section has been nominated for a cleanup
Add info on sections and specific titles for sections
You can help Lostpedia by cleaning it up.
Date Released
February 13, 2007
"Revelations" is the ninth issue of the first volume of Lost: The Official Magazine.
Contents
By The Fire
"Heads Of The Hydra"
Everyone's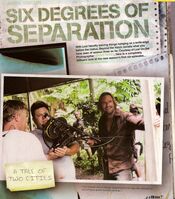 talking about
Ben
and
Juliet
… and so are we. Actors
Michael Emerson
and
Elizabeth Mitchell
discuss their Lost roles – scroll down for a sneak preview.
"Uncaged And Untamed"
Evangeline Lilly and Josh Holloway tell us all about Kate and Sawyer's latest story arc.
"O Brother Where Art Thou?"
Actor Henry Ian Cusick sits by the fire to share his thoughts about Desmond's direction.
"Shadow Of The Sun"
Yunjin Kim talks exclusively about Sun's season three path, including her shooting of an Other.
"Drive Shaft On Tour"
Relive the greatest rock and roll band's live swagger and backstage antics with this access-all-areas pass.
"Six Degrees Of Seperation"
Lost on-set photographer Mario Perez revisits season three's first six episodes from a completely new angle, exclusive to Lost Magazine.
Dear Diary
Intimate confessions from Michael Emerson, Dominic Monaghan, Elizabeth Mitchell, Henry Ian Cusick and Evangeline Lilly...
Community content is available under
CC BY-NC-ND
unless otherwise noted.