"Go back!"
"God help us all"
"Good people", "Bad person", etc.
"Happily ever after"
"Hey yourself"
"I didn't sign up for this."
"And then my 3rd wife, she says, get this, she says, "I didn't sign up for this." Now you tell me, what the hell is that even supposed to mean?" - Arzt to Hurley. ("

Exodus, Part 2

")
"Oh this ain't what I signed up for!" - Roger to Horace about skirmishes with the natives.. ("

The Man Behind the Curtain

")
Hurley: "Nuh uh, no, that's not what I signed up for." Locke: "What did you sign up for, Hugo?" - Regarding taking Charlotte as a hostage. ("

The Economist

")
After discovering Danielle and Karl's bodies, Miles says "I didn't sign up for this". ("

Something Nice Back Home

")
"I'm not going anywhere with you."
"Irreversible"
"It doesn't work like that"/"That's not how it works"
"It's a leap of faith."
"It's not real, none of it is real."
"It worked."
"Killer/Murderer"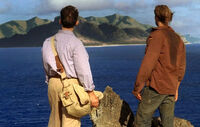 "The last time you had a gun..."
"Let go"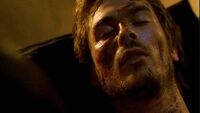 "Letting you off the hook"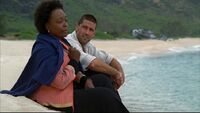 "Lift it up"
"Live together, die alone"
"Not the enemy"