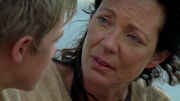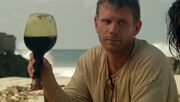 A Protector guards the Heart of the Island to prevent the Light there from going out. The Protector is imbued with certain supernatural powers, such as the ability to heal and the power to create "rules" for the island which others must follow.
Known Protectors
Over the course of the show, four people are known to have filled this role:
Transfer Ritual
The protectorship is passed from the incumbent protector to his or her successor through a specific ceremony. In all known cases, this ceremony involved three actions.
The incumbent gives the successor a liquid. The successor drinks the liquid.
The incumbent touches the successor.
The incumbent utters the phrase "Now you're like me" or "Now we are the same" to the successor.
There are some differences and additions in different ceremonies. Mother gave Jacob wine from a glass bottle, poured into a silver cup. Jacob gave Jack water taken from a river in a silver cup similar to the one Mother used. Jack gave Hurley water from the stream leading to the Source in an Oceanic Airlines water bottle. Both Mother and Jacob uttered an incantation over the liquid before giving it to their successors, but Jack did not. It is unknown which of these actions are simply symbolic and which actually result in the transfer of the protectorship. ("Across the Sea")  ("What They Died For")  ("The End")
Powers
Notes
Only the Protector can appoint his successor.
It appears that only one person may be the Protector at any given time, as Mother stated that her successor would have to be either Jacob or his brother.

Some Protectors have, however, appointed others to serve in secondary roles of importance. Richard Alpert served in such a capacity under Jacob, transmitting messages from Jacob to other people on the island. Similarly, Hugo appointed Benjamin Linus, a longtime island resident, as his "Number Two."

The Protector is endowed with certain powers. Jacob, for example, appeared to stop aging upon being appointed, and lived for many centuries (Mother also appeared not to age). He was also apparently able to heal and grant agelessness to others. The full extent of his abilities is unclear, and it is unknown if all protectors have had the same powers.
All three Island Protectors before Hurley were killed by knife wounds. Mother and Jack were stabbed by the Man in Black and Jacob was stabbed by Ben.