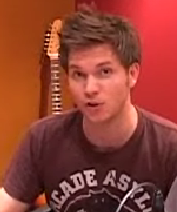 Paul Terry in a promotional video for Lost by Sky One.
Paul Terry is the editor of Lost: The Official Magazine and one of the three regular panelists on the Lost Initiative Podcast. He also worked closely with another Bad Robot show as editor of Alias: The Official Magazine. Before editing these publications, Terry was editor of the official Simpsons and Futurama comics. Living and based in the UK, he has a Lost blog on ABC's website called New Transmissions and was interviewed on the March 5, 2007 Official Lost Podcast.
Also a composer and songwriter, Terry has a solo alt-acoustic project called Cellarscape and has composed several soundtracks for independent films.
External links