Fanon
(Fan created content. Distinct from hoaxes and parodies)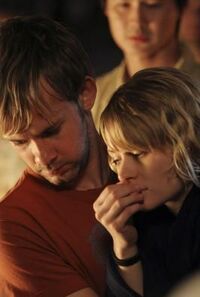 PB&J is the fan-given name to the romantic relationship between Claire (the Pregnant Babe) and Charlie (the Junkie) and could also be a reference to when Charlie found the imaginary peanut butter for Claire in "Confidence Man" and "Dave". Other fan-given names to the pairing of Charlie and Claire are: CC (for the first letter of each of their names), Chaire (for Charlie and Claire), The Moth and the Butterfly (a reference to "The Moth") and Sugarplum Fairies. Such nicknames for pairings are also more generally known as 'ships (short for "relationships").
Timeline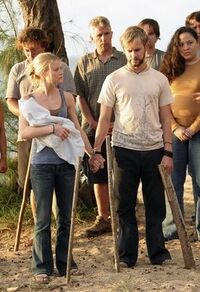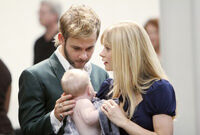 CHARLIE (reading the letter): To whom it may concern, we are survivors of Oceanic Flight 815. We have survived on this island for 80 days. We were 6 hours into the flight when the pilot said we were off course and turned back towards Fiji. We hit turbulence and crashed. We've been waiting here, all this time, waiting for rescue that has not come. We do not know where we are, we only know you have not found us. We've done our best to live on this island. Some of us have come to accept that we may never leave it. Not all of us have survived since the crash, but there is new life too, and with it, there is hope. We are alive. Please don't give up on us.
CHARLIE: It's—it's perfect, Claire.
CLAIRE: You know, I'm not giving up on you either, Charlie. It's gonna be okay. You're gonna be okay. We'll get through this together.
3x16 "

One of Us

" - Days 82-84: Claire gets sick from lack of Juliet's hormonal treatment, and Charlie displays near-frantic levels of concern. Towards the end of the episode, Charlie is seen sleeping in Claire's tent, one finger in Aaron's crib and his other hand holding Claire's. Claire wakes up, healthy again, and she and Charlie share a loving look.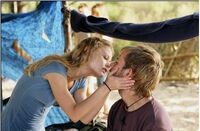 3x21 "

Greatest Hits

" - Day 90: Fearing the end of his life, Charlie makes a list of his own 'Greatest Hits'. In the most sacred position he writes THE NIGHT I MET YOU, in his mind recalling how he wandered over to her the night of the crash and they had a conversation. Before he leaves on his mission to the Looking Glass with Desmond, Charlie and Claire kiss. Charlie leaves his ring - a family heirloom to be passed on from father to son - in Aaron's crib.
3x22 "

Through the Looking Glass, Part 1

" - Day 91: Charlie dies in the Looking Glass station, in the hopes that his actions will get Claire and Aaron onto the helicopter Desmond saw in his visions. As he dies, Aaron breaks out in uncontrollable sobs. Naomi's radio begins working, to which she tells Claire that her boyfriend saved them all.
4x01 "

The Beginning of the End

" - Day 91: At the radio tower, Claire is changing Aaron while Sun and Rose make innuendos, Rose going as far to say that since Charlie saved them all, Claire "better make sure you treat him real good when we get back." Claire seems bashful but pleased. That night, amid a sea of reunions, Claire looks for Charlie when the Radio Tower group reconnects with the main. Realizing that she doesn't know yet, Hurley tells Claire of Charlie's death, and they hug each other as they cry.
6x11 "Happily Ever After" - September 22, 2004: Charlie tells Desmond about a vision he had of a gorgeous blonde woman for which he has fallen in love with, meaning to be Claire. In his speech he says it's "like they've always been and always will be."
6x17 "The End" Charlie meets Claire shortly after she has her baby, and she helps him remember the Island. They later move onto the Afterlife together alongside the rest of the core survivors of Flight 815.
External Links
See Also