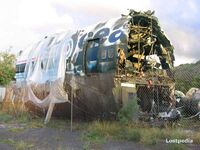 Lost's Lockheed L-1011 film prop in its storage location behind Dillingham Airfield in Hawaii. The Beechcraft fuselage is also stored here.
Oahu, (Hawaiian : Oʻahu), translates to "The Gathering Place" in the Hawaiian language. Oahu is the third largest island in the Hawaiian island chain and is the most populated, with 781,345 people as of 2007, and being home to the urban center of Honolulu. Lost's production company, Grass Skirt Productions is based on Oahu in Honolulu, its offices and the main indoor soundstage being located at Hawaii Film Studio. With the exception of a few scenes shot in California and London, all location scenes have been filmed at various points around the island of Oahu.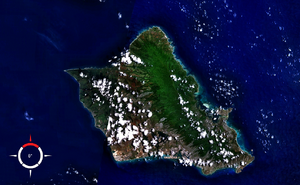 Oahu, as shown in NASA World Wind.
Most of the executive producers, with the exception of Jack Bender and Jean Higgins are located in the ABC building #22 at the Walt Disney studios, as well as the writers and post-production crew. Also on the Island is Pearl Harbor, where the airplane used in the filming was shiped into.







Trivia
See also
Community content is available under
CC BY-NC-ND
unless otherwise noted.