Track type
Character Theme
©2010 Varèse Sarabande and Michael Giacchino

"None the Richard" is an orchestral piece on the season 6 soundtrack. It is the theme for Richard Alpert, representing his past. Its eight measure phrase travels along both dorian and pure minor scales. It primarily appears in Richard's only centric episode, "Ab Aeterno".
Full list of appearances
"None the Richard" and its variations play during the following scenes:
Richard tells the assembled group that the Island is hell, and they are all dead. He suggests they start listening to the Man in Black and leaves to find him. ("

Ab Aeterno

")
Richard discovers his first grey hair, making him realize his desire to live. ("

The End

")
Sheet music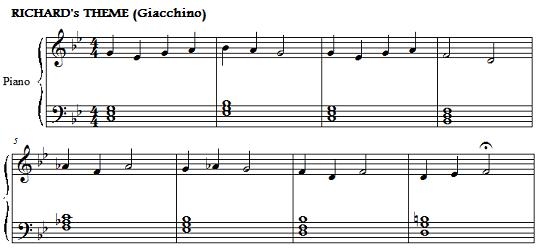 Variations
The theme reappears in "And Death Shall Have No Dominion", "The Fall of Man", "Jacob's Advocate", "Love in a Time of Pneumonia" and "Standing Offer".
Title significance
The title of the piece is a play on the common phrase "none the richer".