"Night Terrors" is the 25th issue of Lost: The Official Magazine. It is a Dark Territory Special.
Regular Segments
By the Fire
Fear of the Dark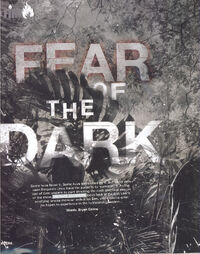 "Fear of the Dark"
Michael Emerson takes time out from his summer break to talk about Ben's traumatic experience of seeing Alex again, the powerhouse fifth season, and what is yet to come...
Radzinsky Revealed
The wonderful Eric Lange gives every Lost fan their dream: a look inside the man who brought Swan station Stuart to our screens...
Dark Territory
Towering Taweret
Seems like you all can't stop emailing about the statue - and everyone on Lost Magazine is obsessed with it too. Prepare for an exclusive look at how the goliath was created...
Enter: The Tunnels
How brave are you feeling? Fancy a descent into the heart of the island? Lost Production Designer Zack Grobler invites you to investigate the creepy tunnel systems...
Chamber of the Monster
We couldn't do a Dark Territory issue and not focus on the smoke monster, so prepare to enter the black cloud's mysterious chamber...
An Ancient Realm
Home to Jughead, we revisit the huge sets that were created for the fifth season's cavernous sequences...
Beyond the Hatch
The Comic-Con Finale
To celebrate what was an amazing Lost panel - and the last one ever - at this year's San Diego Comic-Con, our Beyond the Hatch investigations have taken over the entire New Transmissions news section this issue: enjoy the report...
The Others
From Editor to Lost Director
In an exclusive interview, Mark Goldman reveals his fascinating experience on the show, going from a long-time editor, to first-time director for the Sawyer and Juliet revelations that underpinned LaFleur...
Memento Mori
Captain's Log
For this issue, we revisit the sad but thrilling story arc of Captain Gault, the ill-fated soul who tried his best to help our castaways on the freighter...
Frequent Flyers
The Transceiver
A foreward by Lost Magazine's Editor and ABC Blogger, Paul Terry...
New Transmissions
Aside from our huge Comic-Con report, we've got even more exciting Lost-related news for you...
Voices from the Fuselage
Your theories, views, ideas and finale reactions from all over the world...
Unique Lost Posters
Tawaret and Jacob pin-ups? No problem: enjoy these exclusively created posters...
Black Box Flight Recorder
Exclusive script extracts from White Rabbit are yours to keep...
Exodus
We've got some major exclusives for you in time for the Holiday season...
Community content is available under
CC BY-NC-ND
unless otherwise noted.