Nick Jameson played the role of Richard Malkin.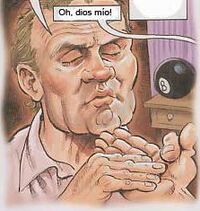 Background
Has appeared on 24 as Russian president Yuri Suvarov.
Has appeared on Alias as Lazlo Drake in season 4 episode 20.
Has appeared in "Criminal Minds".
Has been a voice actor in several video games and animated series.
His IMDB bio reads: "Nick recently fulfilled a lifelong dream by being prominently featured in MAD Magazine's 'Lost' parody. Now he can die happy."
Sometimes credited as Nick Jamison.
Was a member of the band Foghat from 1974 - 1977.