The newspaper clipping was a short newspaper article that Jack ripped out of The Los Angeles Times. ("Through the Looking Glass, Part 1")
The article was about a man from New York, one Jeremy Bentham, who was found dead in Los Angeles. Jack first noticed the item in a newspaper while he was on a flight from Sydney to Los Angeles during one of his many attempts to return to the Island. Jack was the only person to attend Bentham's viewing.
Text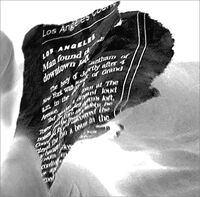 The clipping appears to read:
"

Los Angeles
Man found dead in
downtown loft

"The body of Je ~*~ entham of
New York was discovered shortly after 4
a.m. in the ~*~ of Grand
Avenue. Ted [lastname], [a door]man at The
Tower ~*~ heard loud
noises ~*~ entham's loft.
~*~ [sa]fety, he co[nfessed]
~*~ discovered the
~*~ entered the loft a beam
in the ~*~ mom ~*~ [ac]cordin[g]
~*~


"
During the 2008 Comic Con Showrunners Panel Damon Lindelof and Carlton Cuse confirmed that the name on the newspaper clipping was, in fact, as predicted after the season finale, "Jeremy Bentham".
Production note
The physical creation of the article was from Lost's prop department, and although the creators of Lost are aware of HDTV screencapping by fans, the fine print may or may not have been a direct product of the writing department.
Trivia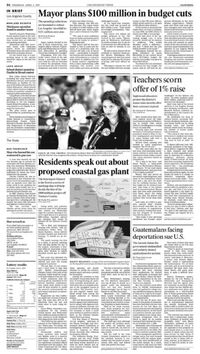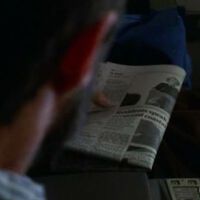 4300 South Grand is a few miles south of Downtown Los Angeles, and slightly south-east of the Los Angeles Memorial Coliseum.
The Grand Tower apartments are at 255 S. Grand Ave., Los Angeles, CA. The apartments provide short-term housing in the Central Business District of L.A., with close proximity to the Museum of Contemporary Art, the Walt Disney Concert Hall, and numerous office buildings. Seems to be the likely location for the death.
Where the clipping of the obituary announcement would be in the real LA Times page is an article about a marijuana bust.
"Ted", "The Tower", and "beam" are all references to central characters or places in Stephen King's The Dark Tower series of books, and other books that allude to the Dark Tower, such as Hearts in Atlantis.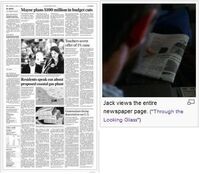 The article that the episode's newspaper prop is based on is from the April 5th, 2007 edition of the Los Angeles Times, which was first reported by the LA Times itself on May 24, 2007. Neither of these dates, however, can be accurate in the show for the date of Locke's death, since Locke's fake Bentham passport was dated December 2007, proving he arrived at the exit point in December.
See also