May 29, 2006
'Lost' in theory

Whew. After Wednesday's whirlwind season
finale
of Lost, it seems silly to complain about a season long streak of dawdling plot lines and reruns.
The stuff Lost fans learned from Wednesday's two-hour show could fill a stack of composition notebooks (which inevitably would wind up in a pneumatic tube leading . . . nowhere). The season-ender struck a chord with Lost's detail-obsessed fans, who wasted no time speculating about what it means for the ultimate plot.

Some followed but none found success of 'Lost'
The saucers are gone. Their big lights have stopped flashing. Any sea monsters emerging from the deep have long since returned there.
The brief science-fiction flare-up of the 2005-2006 network TV season is over.
Read More

May 30, 2006
The secret to 'Lost'? Don't think too hard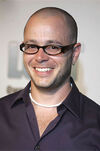 Say it with me one last time this season, "Lost" fans: They don't know where they're going with this, there is no master plan, nothing will ever be explained satisfactorily.
Read more
Jailed 'Lost' Star May Leave Country'
"Lost" star Michelle Rodriguez is back in jail and when she gets out she might skip the country.
Read More

May 31, 2006
Thinking big- for the smallest screens yet

The creative team behind "Lost" on ABC plans to produce video diary segments, two minutes to three minutes long, for cell phones. CBS is pushing ahead with a made-for-mobile soap opera. Recently, HBO's "Entourage" began shooting mini mobile episodes focusing on the exploits of two of its characters, Turtle and Johnny Drama. And NBC is creating casual games based on the fractured, deadpan humor of "The Office" that will be available this summer. Read more
Is 'Lost's' 'Michael' A Goner?'
"Harold Perrineau, who plays Michael, told "The View" that he doesn't know if he'll be back. He says the writers originally told him he wouldn't return, but now they're not sure.
Read More

June 1, 2006
TV season is one of the bloodiest ever

The 2005-06 television season will go down as one of the bloodiest ever.
The killing fields of prime time have racked up an unusually high body count, sending the Reporters Who Cover Television scurrying to ponder what it all means. Over at "Lost," ratings surged when Shannon was shot to death during the November sweeps after being mistaken for one of The Others by Ana-Lucia.
Read more
'Lost' Actress Released From Jail Early
Lost" actress Michelle Rodriguez was supposed to spend 60 days in jail for violating probation with a drunken driving arrest. She served less than a day because of overcrowding.
Read More

June 2, 2006
FEELING LOST? 'Author' of best-seller died in the first episode

Novels by unidentified authors have made the best-seller lists, as has at least one said to have been written by a soap-opera character. But this may be the first time that a book by a nonexistent writer who is thought to have died in a plane crash has cracked the charts.
The book is Bad Twin, by Gary Troup, a character from ABC's hit drama series Lost. Troup was on Oceanic Flight 815, the plane that crashed in the show's first episode.
Read more
'Lost' star enjoyed life as a binman
Lost star Adewale Akinnuoye-Agbaje has admitted that he sometimes misses his job as a binman.
The actor, who plays Mr Eko on the desert island series, revealed that working on the show is far more tiring than collecting rubbish.
Read More

June 3, 2006
The Insider: Harold Perrineau

Where you've seen him before: Perrineau was Augustus Hill on "Oz" (where his co-stars included Adewale Akinnuoye-Agbaje, who now plays Mr. Eko on "Lost"), Mercutio in "Romeo + Juliet" and Link in "The Matrix Reloaded."

Read more
"Lost" star finds role in Foster thriller
Naveen Andrews and Mary Steenburgen are joining Jodie Foster in "The Brave One," a revenge thriller being directed by Neil Jordan.
Read More

June 5, 2006
Spoiler, highlight to reveal. 'Lost' will go on without murderous Michael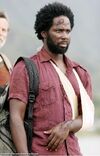 Spoilers for the next season. Just got off the phone with Harold Perrineau, who plays Michael on Lost. He tells me that last night was his swansong on the hit ABC series. Read more
BAD TWIN Reviewed!! FordPerfect Reads What Jack Tried To Burn On LOST!!
Ooo! No new episode of "Lost" next week. Or the week after. Or the next. Or the next. How will you cope? The supposed author of the novel "Bad Twin" – a fellow named "Gary Troup" - was supposedly on Oceanic 815 when it crashed into Dharma Island. A copy of the manuscript was aboard as well. Sawyer found it and was reading it before an angry and impatient Dr. Jack Shepard took it away and set it afire.
Read More