March 16, 2006
Matthew Fox lands cover story in GQ

"Lost" stars are getting great exposure out of the series. Matthew Fox has the cover story and eight pages in GQ, with large photos, this month, and, as noted here earlier, Evangeline Lilly has a four-page spread in Esquire's March issue.
Read More

As the Plot Thickens, No One Is Safe
So far this season, main characters have died on "Lost," "Smallville," "Las Vegas," "One Tree Hill," "Desperate Housewives," "Battlestar Galactica" and previous episodes of "24." The killing isn't over, either:

Read More
March 17, 2006
Fate helped Evangeline Lilly find her way to 'Lost'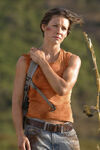 To hear Evangeline Lilly talk, her path to stardom on the hit series Lost was almost beyond her control. Perhaps a bit like her character, Kate, and the rest of the Lost castaways who — submitting to a grand plan, or was it just bum luck?
Read More

Body count high among TV's main characters
In a TV world where even Tony Soprano can get shot in the gut in the season opener, nobody is safe.
Read More
March 20, 2006
Role in 'Lost' puts actor Daniel Dae Kim on the map

"In New York or Los Angeles, it can be a bit overwhelming," says Kim, who stars as the Korean castaway Jin-Soo Kwon in the hit ABC series, "Lost." "They're appreciative of what I do on the show, and one person may ask for an autograph, then others. I'll hear shrieks on the street, which can be unsettling. It's a bit more low key in Hawaii since we film there."
Read More

Networks prepare for post-Games TV War
Prison Break and Lost will be back on air next Wednesday and Thursday nights and The Amazing Race will run after Lost next Thursday night.
Read More
March 21, 2006
'LOST' & FOUND

ABC'S hit serial "Lost" seems to be losing steam and viewers are blaming frequent repeats of the complicated castaway drama. On the flip side, "24," an equally sophisticated thriller, continues to grow in its fifth year. How come? It's because "24's" network, Fox, shows the entire season straight through - no reruns ever.
Read More
Login with Bugmenot

"Prison Break" Stars Blast "Lost" Cast
Prison Break stars Wentworth Miller and Rockmond Dunbar have slammed the cast of ABC series Lost for complaining about poor filming conditions.
Read More
March 22, 2006
Kim surfaces as sex symbol on 'Lost'

After chatting for a half-hour on the phone from Hawaii, he mentions that fans might be interested to know that tonight on Lost, "there's a pretty long scene in which I'm shirtless."
Then he adds, "Oh, man, I think I'm red."
Read More

SFist Watches: TV This Week
Now what? Is "Lost" even on anymore? (OK. It's on this week, but the frequent breaks between new episodes is seriously trying our patience with the show.)
Read More
March 23, 2006
ABC's 'Lost' Star Naveen Andrews Predicts Short Run for Hit Show

"Lost's" Naveen Andrews is looking over film prospects to do over hiatus time, but notes, "It all depends on whether the dates work around the series. When ABC owns you, they own you.
Read More

ABC's First New LOST Since March 1!!
"Lost" returns with a new episode tonight, and that can only mean more exciting torture for Henry Gale, everybody's favorite accused faux-balloonist.
Read More
March 24, 2006
Spoilers Anonymous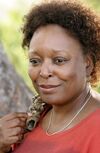 This May, the island elders Rose and Bernard will get their own flashback episode.
Read More

God Keeps Jorge Garcia From Playing Harry Knowles in FANBOYS! !
After that, they cast Jorge Garcia... Hurley from LOST. He was cast. He was signed. But unfortunately for the production...
Read More
Episode 2.16 - "The Whole Truth"
Join us as we deconstruct this week's newest episode.
Read More